What Nintendo And Xbox's New Deal Means For The Future Of Gaming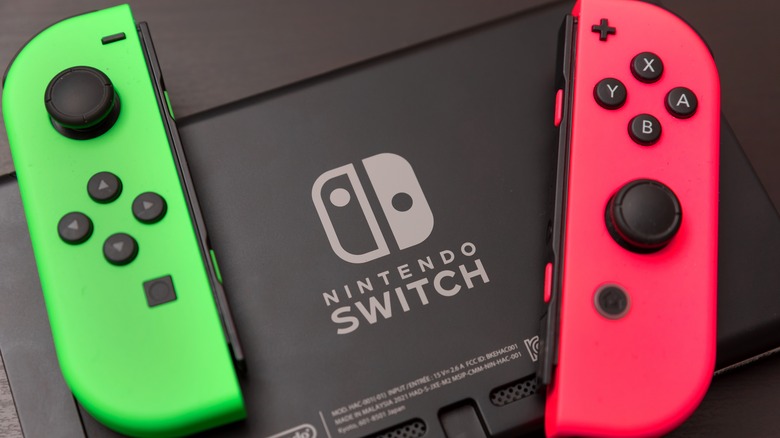 Proxima Studio/Shutterstock
In early 2022, Microsoft announced its plans to purchase Activision Blizzard, and since then, the deal has moved through the legal system – slowly. The government got involved in the deal and various regulatory systems across the world have carefully examined the proposed acquisition in order to assure it would not violate laws preventing monopolies. On the flip side, fans have also been concerned about how the deal will affect certain franchises, especially "Call of Duty." Some PlayStation gamers worried that the series would become exclusive, while others hoped it would arrive on an unexpected new console. As it turns out, the latter is coming true.
Some seemingly contentious meetings between Sony and Microsoft representatives hinted that things might not look good for the future of "Call of Duty" on PlayStation. While Microsoft assured gamers that it had no plans to cease releasing the popular war series on Sony systems, PlayStation head Jim Ryan publicly blasted the rival corp, arguing that Microsoft planned to make "Call of Duty" exclusive after some time. While the relationship between Sony and Microsoft remains unclear, Nintendo has entered the picture, scoring a deal to bring "Call of Duty" to Nintendo systems for the next ten years.
The deal has already been signed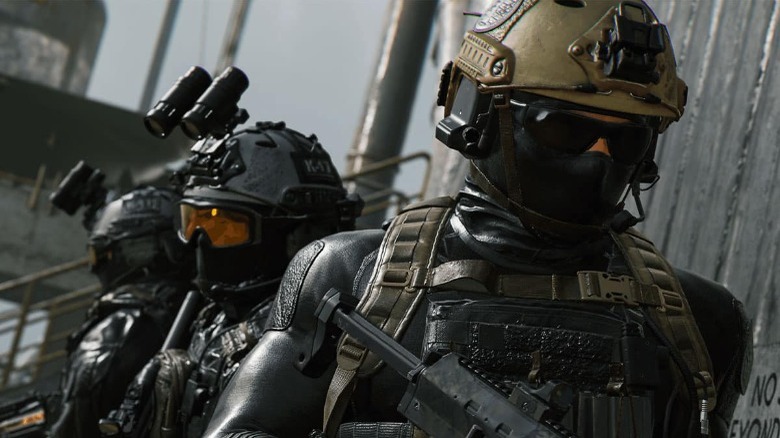 Activision Blizzard
Brad Smith, Vice Chair and President of Microsoft, announced on Twitter that Microsoft and Nintendo are officially in business.
We've now signed a binding 10-year contract to bring Xbox games to Nintendo's gamers. This is just part of our commitment to bring Xbox games and Activision titles like Call of Duty to more players on more platforms. pic.twitter.com/JmO0hzw1BO

— Brad Smith (@BradSmi) February 21, 2023
Smith explained that Nintendo and Microsoft have already signed the paperwork to bring "Call of Duty" to Nintendo consoles on the same release day as Xbox, with the same features and modes. Interestingly, Microsoft did not announce that the "Call of Duty" titles will release on the same day as PlayStation, although the statement did include the Sony console on the list of "Call of Duty" platforms. The announcement implies that Microsoft and Sony's ongoing struggles over "Call of Duty" might affect the future of the companies' relationship, but it also may hint that new console news is on the way from Nintendo.
While the message explained that Microsoft plans to continue offering "Call of Duty" on multiple platforms, some gamers seemed skeptical that Nintendo could build a system that could handle the graphically advanced game — much less have parity with Xbox consoles.
Probably won't be seeing call of duty on Nintendo until the start of their new generation console. Let's hope it's Atleast a little more powerful than a ps4 and Xbox one otherwise cloud will have to be used

— Kevinchadwick55 🇮🇪 (@kevinchadwick55) February 21, 2023
Some fans speculated that gamers may not see a "Call of Duty" game on a Nintendo console until the company announces a new system. However, fans' hopes and dreams of a Nintendo Switch Pro have been crushed time and time again. While there's a chance that "Call of Duty" could take advantage of the Switch's cloud gaming capabilities, it's also possible Microsoft envisions the shooter on an entirely new Nintendo system. Only time will tell how "Call of Duty" will arrive on the Switch.