Pro Soccer Players Have Brutal Responses For Their Awful FIFA 23 Characters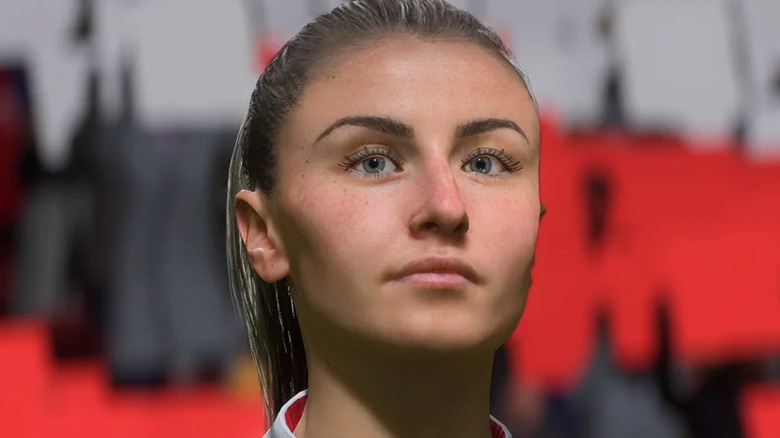 EA
The FIFA games, as published under Electronic Arts, have been around for decades now and remain one of the most popular sports video franchises. However, "FIFA 23" will be the last game released under this partnership between the football federation and EA. The heart of these games isn't going anywhere, as EA plans to start a new franchise, "EA Sports FC," but no one knows what's going to happen to the FIFA label itself. Perhaps one of the side effects of this divorce may be rougher player models that don't come close to representing their real-life counterparts.
By most accounts, "FIFA 23" is one of the better installments in recent years, with some critics even calling it a "bombastic swan song" for the series. However, one of the things it carries over from previous FIFA games is its lack of attention to detail in representing real-life soccer players. Nowhere is this more evident than with the recent addition of the National Women's Soccer League to "FIFA 23." The models throughout this newly-added American soccer league are so bad that NWSL players have come out to lambast their portrayals across social media.
They had the headband, the braid, the neck tattoo, the overly plucked brows and someone even made me CHESTYYYY!!!! Deflate my boobs a bit and put a different jersey on. I'll keep the brows at this point. 😭🫣🫠 pic.twitter.com/GWnBBCNApd

— Sydney Leroux (@sydneyleroux) March 22, 2023
Sydney Leroux — an Olympic gold medalist who played for the United States' team in London in 2012 — was all over it, making several mockeries of the game's portrayal of her. She was far from the only one who disliked her avatar, as over the few days since the NWSL was added to "FIFA 23," more and more NWSL players have posted about the game's hilariously bad models.
NWSL players in FIFA 23 are going to scare your children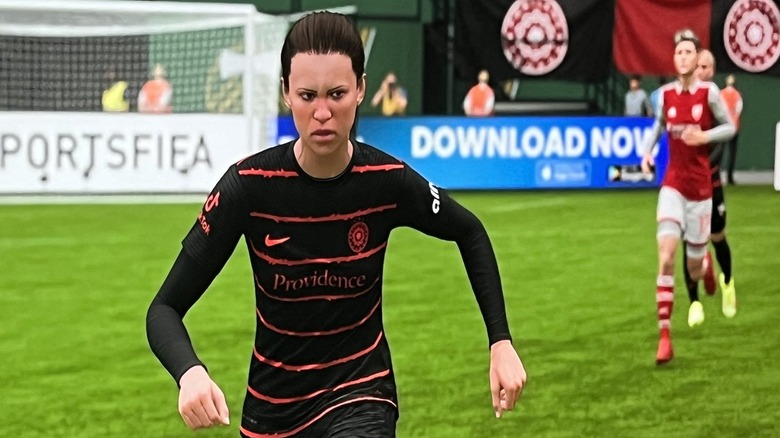 Janine Beckie / Twitter
Caprice Dydasco, who plays for the Houston Dash, was among the first wave of players posting comparisons of their "FIFA 23" models to real-life photos. Dydasco's model is about as inaccurate as it can get, with an unrecognizable face and totally wrong hair color. In the responses, Katie Stengel of the U.K.'s Barclays Women's Super League said Dydasco ought to just be thankful that she has hair at all.
I'm grateful EA Sports is finally including the NWSL but this does not represent me. @EASPORTSFIFA pic.twitter.com/SgrFkoCYy1

— Caprice Dydasco (@CapriceDydasco) March 22, 2023
Janine Beckie currently plays for the Portland Thorns FC in Oregon, and also boasts an Olympic medal as a striker on the United States' team in Rio 2016. Beckie posted a side-by-side of her on the pitch and her model in-game, and between the two, there's practically no resemblance. Beckie joked that she found her long lost twin — "fraternal, obviously." Sydney Leroux responded with intentionally broken English in an attempt to identify the doppelganger as "Janeen Beckeh from the Pourtland Tornz."
That is Janeen Beckeh from the Pourtlund Tornz. 💅🏽 https://t.co/IO1OQYLUGi

— Sydney Leroux (@sydneyleroux) March 23, 2023
Sydney Leroux plays for Angel City FC out of Los Angeles and was one of the main players posting about these ridiculously bad "FIFA 23" models. In one hilarious tweet, she posted an image of a glitched, hairless Kailen Sheridan of the San Diego Wave — one who was likely suffering from a common glitch in "FIFA 23" — and asked EA to stop wasting women's time because "some of us are bald."
I know you expect women to just be thankful and grateful that you've given us a little sliver of publicity but please stop wasting our time. Some of us are bald. pic.twitter.com/DK6jut5YmS

— Sydney Leroux (@sydneyleroux) March 23, 2023
Ultimately no one knows what went wrong behind the scenes to lead to such a bad representation of these players. One can only hope "EA Sports FC" makes some major improvements.