Red Dead Redemption Fans Go Into A Frenzy, But Not For The Reason You Think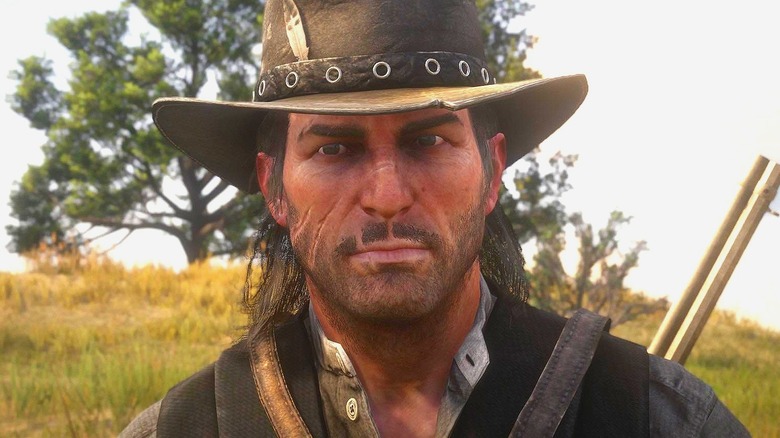 Rockstar Games
Fans of Rockstar Games are a particular breed. Like many gamers, they are absolutely devoted to their favorite franchises and characters. But Rockstar fans, perhaps more than any other video game devotees out there, are also constantly on the lookout for updates regarding their preferred games. With "Grand Theft Auto 6" on horizon, fans have continued searching for any signs of a release date or story details, excitedly poring over anything resembling a hint from Rockstar. "Red Dead Redemption" diehards are no different. This week, it looks like "Red Dead" fans have gotten their first bits of tangible evidence in a while that a new release is on the way for the series — but it doesn't appear to be "Red Dead Redemption 3."
With "Red Dead Redemption 2" nearing five years on the market and "Red Dead Online" no longer receiving updates, fans are naturally getting antsy to know what the series has in store for the future. Rumors have been swirling for a couple of years regarding a new iteration of "Undead Nightmare," as well as either a remaster of the first game or a full-on remake. Rockstar has remained characteristically tight-lipped regarding these rumors, as it's the company's policy not to weigh in until it's good and ready to reveal a new project.
That hasn't stopped fans from looking high and low for clues about the next "Red Dead Redemption." Now, an update to Rockstar's official website has pretty much convinced gamers that an announcement is imminent.
Rockstar makes an interesting Red Dead Redemption update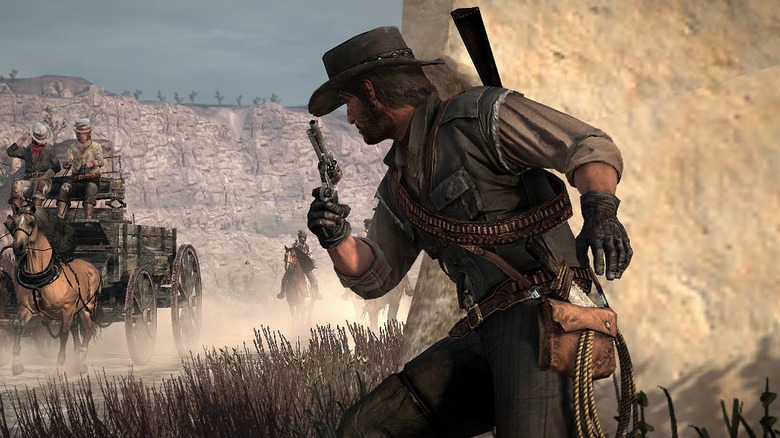 Rockstar Games
In the early morning of July 27, noted Rockstar rumor tracker Tez2 reported that Rockstar suddenly updated its listing for "Red Dead Redemption" on its site. This includes a spiffy new logo that reads, "Rockstar Games Presents Red Dead Redemption." Fans are already taking this to mean that Rockstar is finally putting out a long-awaited remaster of the first game, with the "Presents" designation perhaps meaning the company has once again allowed an outside developer to handle remaster duties. This would make a good bit of sense, as Rockstar is still knee-deep in development on "Grand Theft Auto 6." 
Rockstar's new site update, live an hour ago, added a new reference within the games list.

"Red Dead Redemption (Rockstar Presents Ver)"

Codename:
- RDR1RSP (RDR1 Remaster SP?)

New logo below#reddeadredemption pic.twitter.com/MbzmnieMlo

— Tez2 (@TezFunz2) July 27, 2023
Tez2 has also pointed out that Rockstar's site update may also hint that "Red Dead Redemption" may be coming to more platforms than ever before, though they couldn't say for sure. "Odd timing to update it now ... If not for something new?" writes Tez2.
Plus, Rockstar included RDR1 to the Ratings list of the modern site modules.

RDR1 Original site doesn't use those modules. Suggesting a site update.

PS3, Xbox 360 and Switch were newly added as platform buttons (CTA)

Below is a preview (not indicative of platform availability) https://t.co/iVYtJmEmxG pic.twitter.com/Vj2UVVEdo1

— Tez2 (@TezFunz2) July 27, 2023
In the replies, fans' minds are already swirling with possibilities. Will this just be a new port? A full remaster? Maybe a remake that combines the gameplay of "Red Dead 1" with the expansive map and realistic graphics of "Red Dead 2?" It truly seems like the sky is the limit, given how impressive every installment of the series has been up to this point.
If you haven't been closely following the slow trickle of "Red Dead" updates, this might seem like it's all happening so suddenly. However, fans have been expecting some news regarding a "Red Dead Redemption" remake or remaster for a few years, at this point.
Signs have been pointing to Red Dead Remastered for a while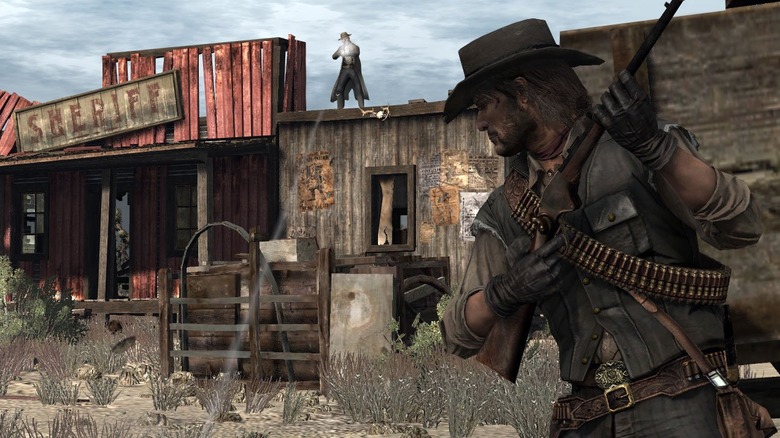 Rockstar Games
Back in 2020, an alleged leaker claimed on 4Chan that they had the inside scoop on the "Red Dead" remaster, which would enhanced visuals, new gameplay elements such as fishing, and even a totally revamped version of the "Undead Nightmare" expansion. This leaker even claimed that Rockstar was bringing in the game's original voice cast to possibly re-record old dialogue or even record all new lines. 
Nothing ever came of this rumor, and fans generally started to move on — until last year, when Tez2 reported on the dire consequences of Rockstar's messy "GTA: The Trilogy" remasters. According to Tez2, "remasters of ['Grand Theft Auto 4'] and ['Red Dead Redemption 1'] were on the table a few years ago, but Rockstar chose not to proceed with the projects in mind ... The poor reception of the 'Trilogy [Definitive Edition]' might be a reason behind that decision." That's right; the remastered versions of "GTA 3," "Vice City," and "San Andreas" were such a mess that Rockstar allegedly decided the company was better off cutting its losses and canning further planned remasters. If the remaster project has indeed been revived, it should be interesting to see if this is a new build, or if Rockstar dusted off one that was already in the works before the "GTA" remasters bombed.
It's only in the last couple of months that the "RDR" remaster rumor mill has started really turning again. Last month, Gematsu spotted that the original "Red Dead Redemption" had seemingly gotten a new classification from Korea's Game Rating and Administration Committee, which would seem to imply a new iteration of that game is on the way. Rockstar's new logo change only adds more fuel to the fire.