We Finally Know What Those Red Dead Redemption Leaks Were About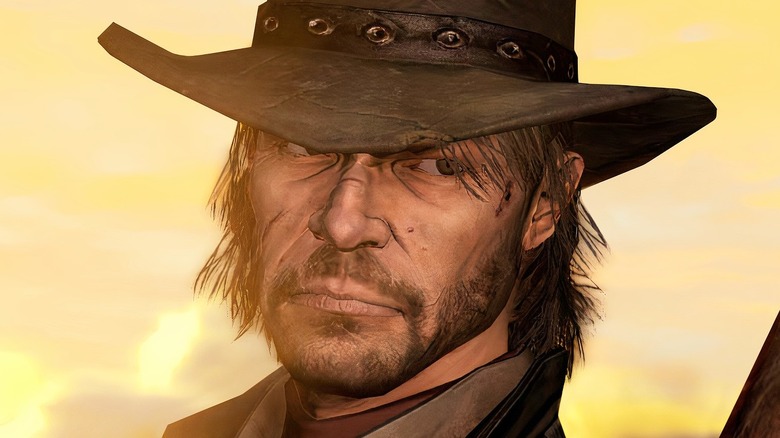 Sorry, "Red Dead Redemption" fans; those "leaks" from last month were not quite what many thought they were. In late July, "Red Dead" diehards went into a frenzy when Rockstar updated the original game's logo on its official site. The new and improved banner proudly proclaimed, "Rockstar Games Presents Red Dead Redemption," prompting rampant theorizing that the studio behind "Grand Theft Auto" was finally going to announce a full-scale remake of its landmark western game. Instead, Rockstar has announced a new release of "RDR1" for last-gen consoles.
Advertisement
Specifically, "Rockstar Games Presents Red Dead Redemption," which is neither a remaster nor a remake, will debut later this month on Nintendo Switch and PlayStation 4. That's right; the port of the OG "Red Dead" is coming out in just over a week, and without much in the way of fanfare. Compare that to the launch of the much-maligned "Grand Theft Auto: The Trilogy" remaster collection, which got at least a month of teasers and news from Rockstar before it arrived. However, it should be noted that the physical release of the new port will be arriving later in the fall on October 13.
Rockstar's official press release notes that the new port will include the fan favorite DLC chapter, "Undead Nightmare," which plunges John Marston and his family into a zombie apocalypse. The full package will retail for $49.99 and the PS4 version will be playable on PS5 consoles. However, despite the fact that this port releases "Red Dead Redemption" from its prison on the PS3, "Red Dead" fans have been fairly underwhelmed by this announcement.
Advertisement
Red Dead's new release is not a hit with fans
While some fans on social media have expressed their excitement for the new port of "Red Dead Redemption," the general consensus among gamers is that this is not what they hoped for or wanted. Even those who didn't expect a full-on remake were hoping for an expanded remaster in the vein of "GTA 5" for PlayStation 5. Instead, many fans are displeased with the idea of paying $50 for 13-year-old game. Others are clowning on the fact that the new release actually has fewer features than the original, and for nearly twice the price:
Advertisement
Red Dead Redemption® – PS3 :

$𝟮𝟵.𝟵𝟵

Red Dead Redemption – PS4 :

$𝟰𝟵.𝟵𝟵 𝗮𝗻𝗱 𝗡𝗼 𝗠𝘂𝗹𝘁𝗶𝗽𝗹𝗮𝘆𝗲𝗿

Congratulations 🤡🪨$🤡 Games pic.twitter.com/d2ErFZOGhs

— PlayStation Game Size (@PlaystationSize) August 7, 2023
Some fans are already having fun with the idea of the gritty "Red Dead Redemption" on the mostly kid-friendly Switch console. One fan took things a bit farther and imagined one of Nintendo's flagship characters making himself at home on the range:
red dead redemption on the nintendo switch pic.twitter.com/XxzekyhNn3

— jake (@AC_Roald) August 7, 2023
In any case, it's looking more likely than ever that Rockstar isn't going to release a true remake or remaster of "Red Dead Redemption." Not only is the company still hard at work on "GTA 6," but leakers reported last year that Rockstar canned planned remasters of "GTA 4" and "RDR1" after the poor performance of the "GTA Trilogy" remasters.
Advertisement