Fortnite: Chapter 2 Season 1 New World Mission Challenges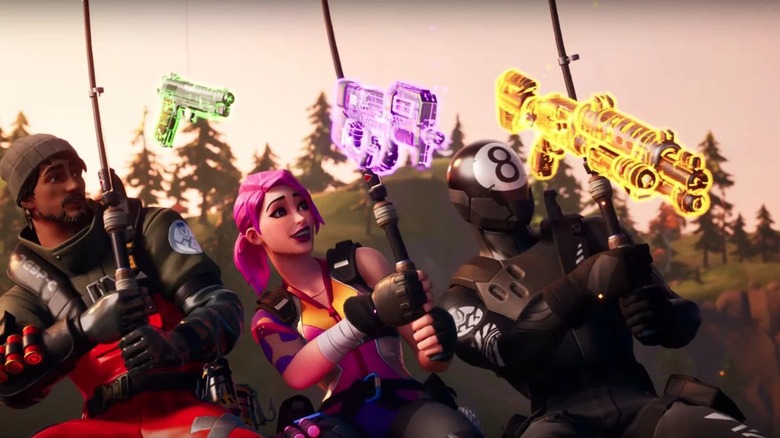 Fortnite: Chapter 2 Season 1 officially kicked off on October 15, bringing a new set of challenges to complete. Titled "New World," the week 1 mission set focuses on familiarizing players with the game's updated map and new features. Get ready for an exciting jaunt across an unexplored frontier.
Fortnite New World challenges list:
Discover Named Locations (10)
Eliminations at Lazy Lake or Misty Meadows (3)
Discover Landmarks (10)
Ride a Motorboat in different matches (3)
Deal damage with Assault Rifles to opponents (500)
Search chests at Sweaty Sands or Retail Row (7)
Eliminations in different matches (5)
Catch a weapon using a Fishing Rod (1)
Deal damage with SMGs, Shotguns,and Pistols in a single match (3)
Carry a Knocked player 10m (10)
Search hidden 'F' found in the New World Loading Screen (1)
The Fortnite: Chapter 2 Season 1 Battle Pass differs a bit from what we've seen in previous seasons, using XP to level up rather than Battle Stars. Completing each challenge rewards you with 14,000 XP, allowing you to rake in up to 154,000 XP total.
You will also unlock the New World loading screen by completing 8 of the 11 objectives, which draws attention to another important change. Rather than placing clues leading to hidden Battle Stars, the loading screens this season lead to hidden letters that will eventually spell out "Fortnite." You'll need to collect all the letters by visiting the locations indicated on each week's loading screen to unlock the mystery skin for Season 1.
Unlike previous seasons, the Fortnite map will not come pre-filled. This makes challenges 1 and 3 especially useful, as they reward you for uncovering everything the new map has to offer. Fortnite: Chapter 2 has 13 new locations which will show up as question marks before you've paid them a visit. Landmarks are located in the gray zones between locations. To discover 10 landmarks, you'll need to enter a gray area then look for its defining characteristic, such as a building or topographical feature.