Fortnite: Chapter 2 Season 1 Week 1 Hidden "F" Location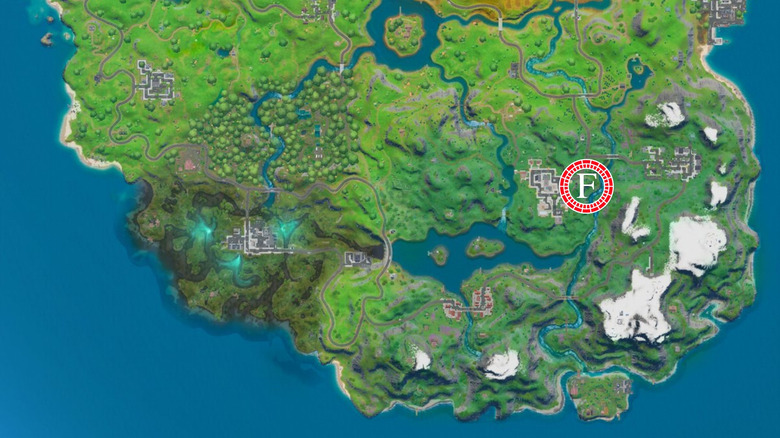 Fortnite: Chapter 2 has replaced Battle Stars with XP for its Season 1 Battle Pass. With Battle Stars no more, Epic Games has hidden the location of a new type of collectible in their weekly loading screens: letters.
This season's letters will eventually spell out "F-O-R-T-N-I-T-E" as part of the Alter Ego challenge. To find and collect each one, you'll first need to unlock the respective loading screen by completing 8 of the 11 challenges that come with each week's limited-time mission. Starting with "F," these loading screens will point you towards the location of a new hidden letter. 
If you collect all eight letters, Epic will reward you with a mystery skin unveiled later in the season. This is not a new concept, as the developer has awarded various skins for collecting loading screen collectibles during Seasons 4 through 9, including The Visitor, The Enforcer, The Prisoner, and Ruin.
To find the Fortnite: Chapter 2 Season 1 hidden "F," you'll first need to complete eight of the challenges from the New World mission set. This will unlock the New World loading screen (pictured above.) You can spot a small blue "F" in the right portion of the image on a small hill overlooking the Lazy Lake location. Head to the same hill in the south eastern portion of the new Fortnite map to uncover the "F." Simply interact with the letter to collect it. This will also satisfy the requirements of the eleventh New World challenge.
Bear in mind that the "F" will only appear if you've unlocked the New World loading screen. As the mission went live on October 15, you'll likely have until October 22 to complete a minimum of eight challenges and collect this week's hidden letter. If you miss a week at any point, you won't be able to claim the Season 1 mystery skin.