Ghost Of Tsushima Just Shattered A Sony Record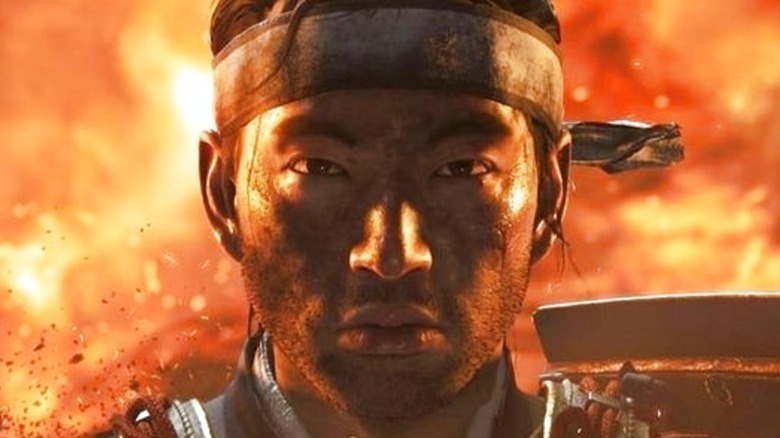 Sucker Punch Productions' Ghost of Tsushima has been out for just under two weeks and it is already making its mark on video gaming history. In fact, it smashed a PlayStation record during its first weekend of release.
Advertisement
Ghost of Tsushima sold 2.4 million copies within its first weekend. While other recent games have certainly outsold it — like The Last of Us Part 2 selling 4 million copies in three days — this figure is notable because Ghost of Tsushima represents a brand new Sony IP. In other words, there wasn't really any kind of built-in audience that was seeking it out beforehand, allowing the game to stand (and sell) on its own merits as an original story.
The official PlayStation Twitter account was quick to celebrate the achievement. Last week, PlayStation tweeted, "Ghost of Tsushima is now PS4's fastest selling first-party original IP debut with more than 2.4 million units sold through globally in its first 3 days of sales. Congratulations @SuckerPunchProd, and thank you to fans around the world for taking part in Jin's journey."
Advertisement
Fans of the game were quick to chime in with similar congratulations. One fan shared a few gorgeous screenshots from their own playthrough of Ghost of Tsushima, calling the game a "masterpiece."
According to GameSpot, the previous record holder for fastest-selling original IP was Horizon Zero Dawn. Even then, it's worth noting that it took two weeks for Horizon Zero Dawn to hit 2.6 million copies sold. In other words, Ghost of Tsushima definitely had more momentum right out of the gate. With the current console generation winding down in anticipation of the release of the Playstation 5 and Xbox Series X, it's highly unlikely that this record will be broken again until those new consoles arrive.
It's not much of a surprise to learn that Ghost of Tsushima is shattering records like this. The game has been pretty well-received by critics and audiences alike. Some people are even finding themselves playing through the game multiple times so that they can experience the full storyline in the game's "Kurosawa Mode." This particular mode renders the entire game in stark black and white, adding bits of grain to the picture in an effort to mimic the look and feel of one of director Akira Kurosawa's classic samurai films. Others have played the game a second time to see another one of Ghost of Tsushima's two endings. Considering how long it takes to beat Ghost of Tsushima, that is no mean feat. This game has really struck a chord with some players.
Advertisement
Some people have had issues with the game's dialogue or story, but the majority of critical responses to the game have been very positive. Even Japanese gaming magazine Famitsu gave Ghost of Tsushima a perfect score, making it only the third North American game to achieve that rating in the history of the publication. 
Still, the game seems poised to continue to be a big moneymaker for Sony. This is great news, because even though Sony has some major licensed exclusives coming up (like Iron Man VR and Marvel's Avengers), it shows the company that there will always be a solid market for original IP. This also means that Sucker Punch's gamble in pursuing a new original IP paid off for them as well. Ghost of Tsushima is Sucker Punch Production's first game since the last installment in the Infamous franchise, so it seems like the team came back with a vengeance.
However, it should be mentioned that not everything is fine and dandy in regards to Ghost of Tsushima. Though the game has been receiving acclaim pretty much the world over, Ghost of Tsushima has led to a bit of an uproar amongst gamers in China. Specifically, Chinese gamers seem to be divided when it comes to the portrayal of the game's Mongolian invaders, as well as topics of Chinese nationalism. Some gamers in China have even suggested boycotting Ghost of Tsushima because it portrays a Japanese character killing Chinese characters. 
Advertisement
The game has yet to be officially banned, but the controversy is a notable one. This obviously wouldn't be the first time a game caused an uproar in China, but it's rare for a game with such a level of acclaim and prestige to be roped into such a discussion. 
Despite this unintentional controversy, Ghost of Tsushima continues to be a wildly popular title. One can only wonder how much more these sales figures will grow if (or when) the game launches on the PlayStation 5 at some point in the future. If you want to see what all of the fuss is about, Ghost of Tsushima is currently available for the PlayStation 4.