Fall Guys Season 2 Change Is Turning Heads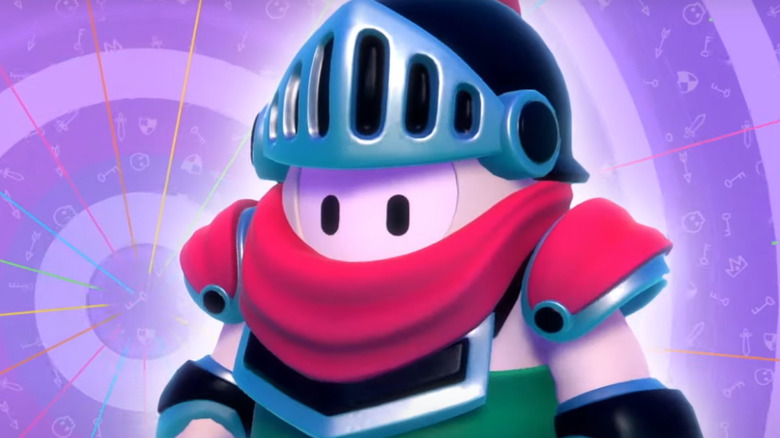 Devolver Digital
Fall Guys: Ultimate Knockout continues to be a smash success. Mediatonic's battle royale party game is ramping up to launch its second season in a matter of days, bringing with it plenty of new costumes and mini-games. Although the anticipation for the new season is growing, a recent announcement has shaken up the Fall Guys community.
The Fall Guys Twitter account has announced that it will soon be easier than ever for players to earn Crowns in the game. Crowns can currently be earned by winning a game of Fall Guys or at certain ranks in the game, and can then be spent on obtaining rare cosmetics for the game. If you've ever wondered how a Fall Guys player got that sweet Portal 2 costume, it was through earning Crowns. 
According to the Fall Guys Twitter account, the developer has been listening to feedback from fans who are concerned that it's currently too difficult to get a Crown. Of course, since the Fall Guys Twitter account is absolutely savage, there was also a shoutout to Twitch streamer TimtheTatMan, who has been notoriously bad at earning crowns in the game. It seems that Mediatonic has been attempting to address the difficulty curve and make it easier for players to consistently earn more Crowns. 
To that end, Fall Guys announced, "For Season 2, we've added over 600% more golden crowns into the Season rewards... FEATURED COSTUMES FOR EVERYONE!" As pointed out later by the Fall Guys Twitter account, that puts the total number of earn-able Crowns in Season 2 at around 20, give or take. While the Fall Guys Twitter account has been known for messing with players — like when it revealed the Fall Guys' terrifying anatomy — it rarely exaggerates when it comes to fun new additions to the game. In other words, the extra Crowns should be coming very soon.
The fan response to this new change has been a lot more varied than you may expect. While it's obviously exciting that fans of the game will be able to get more Crowns than ever before, some people are resistant to the sheer number of them. Some Fall Guys players are concerned that this increase in Crowns could potentially break the game. 
One fan felt that the change would end up  "lessening the satisfaction of actually earning crowns and lowering the value of skins." Another player said, "The point of crowns was to show off with premium costumes based on skill," and expressed the feeling that making Crowns more readily available would cheapen victories. However, another fan countered with the notion that this would also encourage players who were bad at the game to keep playing. 
Fall Guys is already a pretty goofy game that doesn't take itself too seriously. Having extra rewards based on participation might be just the kind of thing a lighthearted game like this needs to continue being successful. After all, it's very easy to become disheartened after playing through multiple rounds of Fall Guys without a single clear win.
In fact, that was the subject of a recent article from Polygon, in which the publication reached out to Fall Guys players who were frustrated with the elusiveness of Crowns. Some fans expressed to Polygon that they found themselves tuning out during the game's later rounds, since they felt there was no way they'd be able to snag a Crown. Since a good bit of the game is just as much about luck as it is about skill, raising the number of available Crowns may encourage people to relax and just enjoy the chaos of the more challenging Fall Guys maps. 
Even though the game has been frustrating for some players, Fall Guys is still going strong. The developers must be doing something right, because Fall Guys: Ultimate Knockout has been nominated for multiple Golden Joystick Awards. Back in August, Fall Guys also set a crazy record when it became the most downloaded PS Plus game of all time. There's still no word on whether or not Fall Guys will come to Xbox platforms, but it was recently announced that a mobile version of Fall Guys would be making its way to China. 
Hopefully this latest change will prove that Fall Guys: Ultimate Knockout has a bit of longevity to it. It's obvious that Mediatonic has been listening to player feedback. In recent weeks, the company has discussed its long process of trying to remove cheaters from Fall Guys. Now that Epic Games' Easy Anti-Cheat has been added to the title, it will hopefully make for a smoother experience. Between that and this new update, hopefully now the fans can focus on what really matters: getting as many of those sweet, sweet Crowns as possible. If you're still stuck after this update, there's a chance you've been playing Fall Guys completely wrong.