The Best-Selling Console This Holiday Season May Not Be The PS5 Or Series X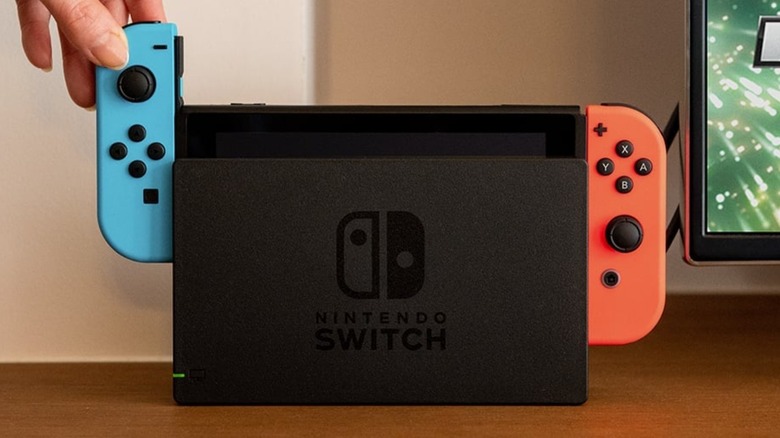 Nintendo
The PlayStation 5 and Xbox Series X are gearing up for their debuts. Though Microsoft and Sony have the limelight right now, the Nintendo Switch may be the big winner this holiday season according to industry analyst Mat Piscatella. He believes the lack of next-generation console availability will positively affect Nintendo Switch sales, which will ultimately lead to Nintendo stealing the console crown at the end of 2020.
Advertisement
"Switch will also be a hot holiday gifting item with more households picking up multiple Switch consoles in the fourth quarter," Piscatella explained. "The lack of available inventory of new PlayStations and Xbox systems will leave Switch as an appealing available option (although supply may still be difficult to find)."
This year's console launches have been very different from previous generations with the cancellation of E3 and the transition into a summer-long announcement landscape. The cancellation was largely due to the COVID-19 pandemic, which also led to the delay of several titles as developers transitioned to a remote work model. Naughty Dog's The Last Of Us Part 2 and 343 Industries' Halo Infinite both cited the pandemic for their respective game delays. Despite these setbacks, the video game industry has been booming throughout 2020.
Advertisement
According to an analysis released by The NPD Group in July 2020, 244 million people play video games in the United States — 32 million more people than reported in 2018. 35 percent of gamers also stated that their playtime has increased during the pandemic. Piscatella, who works for The NPD Group, expanded on this.
"Video games are one of the primary ways friends and family are staying connected through a difficult time," said Piscatella. "The growth in both the number of players across all gaming segments, as well as time spent gaming or watching gaming-related content, reflects the variety and depth of gaming experiences available regardless of device preferences, gaming interests or budget."
This increase in gaming caused next-generation console fervor to heat up as indicated by the chaotic pre-order situations for both the Series X|S and PlayStation 5. Websites for retailers like Wal-Mart and GameStop crashed as fans rushed to their sites and consoles sold out within hours (or minutes in some cases). Sony even issued an apology for the pre-order mad dash, saying: "Let's be honest: PS5 preorders could have been a lot smoother. We truly apologize for that."
More pre-order details have since surfaced thanks to a study from market research company VGM that surveyed 511 U.S. gamers. Only 15 percent of the sample group members were able to secure a pre-order. Even more concerning, the availability may not live up to consumer demand. David Gibson, the chief investment officer at a Tokyo based financial advisory firm, said via The New York Times that "It's going to be really hard to find [the next-gen consoles]." He cited factory shutdowns in Asian countries and the current demand for hardware components as contributing factors.
Advertisement
This supports Piscatella's prediction that many gamers won't be able to get their own next-gen consoles until 2021, making the Switch a tempting option for holiday gifts. According to Nintendo, the Switch has already sold 61 million units. The Nintendo exclusive Animal Crossing: New Horizons was a big hit, acting as something of an escape during quarantine. As of August 2020, New Horizons had moved 22.4 million copies. The Switch also offers universally praised games like Super Mario Odyssey and The Legend of Zelda: Breath of the Wild.
It's true that the Switch struggled to keep up with demand during the pandemic, but GameSpot asserted in August that Nintendo had bounced back from the setback. A Nintendo financial report stated, "COVID-19 created some difficulties in procuring the parts required for manufacturing Nintendo Switch consoles, but the overall production situation has almost recovered." 
The new Sony and Microsoft consoles may help relieve some of the pressure on Nintendo. TheGamer suggested that the Switch, which is currently priced at $299.99, may get a price cut to take advantage of the Christmas season. Hyrule Warriors: Age of Calamity, a prequel to The Legend of Zelda: Breath of the Wild, will also release right before the holiday season on Nov. 20. Other recent Switch releases have included Super Mario 3D All-Stars, a remake of three classic 3D Mario games, and Super Mario Bros. 35, a Mario flavored battle royale. 
Advertisement
The Nintendo Switch is in a strong position to overtake the most talked about consoles. You'll have to wait and see how things play out when the PlayStation 5 and Xbox Series X|S drop in November.