How The Xbox Head Really Feels About The Series S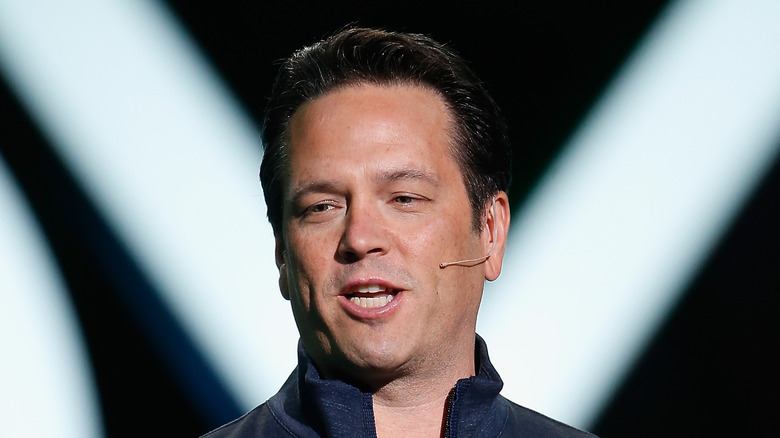 Christian Petersen/Getty Images
In an interview with Kotaku, Xbox head Phil Spencer made some bold predictions about how the all-digital Xbox Series S would perform against its big brother, the Xbox Series X. While confident the Series X will drive sales at launch, Spencer suggested the Series S's lower price point would sell more units over the next generation.
Excitement for the next generation of consoles has already reached a fever pitch, with Microsoft launching its new hardware on Nov. 10 and Sony shipping the PS5 two days later. While the Series S was a constant source of rumors and speculation for 2020, when gamers finally found out what the series S looks like on Sept. 8, the release date was still a surprise. Some even speculated that having the two consoles compete against one another would mean terrible news for the Xbox and allow Sony to dominate holiday console sales.
The Series X will retail for $500, which is the standard price many analysts expected for an all-new device with next-generation capabilities. The Series S will cost just $300, comparable to Nintendo's price point for new hardware, which often offers new gameplay hooks for fans but rarely matches its competitors' technology.
The $200 price difference does mean that gamers who opt for the Series S will not have the same experience as those who purchase the Series X. The Series S, for instance, will not be able to run games in native 4K. The lack of disc drive may seem like a bonus for gamers who already depend on digital storefronts, especially since it means a smaller box, but the Series S only comes with 512 GB of storage, as opposed to the Series X's 1TB.
While 512 GB might sound like a lot, ballooning file sizes for games may mean that space doesn't last long. After all, a recent update for Call of Duty: Modern Warfare weighed in at 68 GB for Xbox One owners, bringing the total drive space taken to nearly 200 GB. Thankfully, both the Series X and S include a 1TB expansion card port, though you'll have to pay a pretty penny to take advantage of it.
However, Spencer is confident that giving consumers an option to choose between power and price for their new console will help drive sales. Spencer told Kotaku, "I think we'll sell every unit of both of them that we can deliver." He then spoke of his confidence in the industry, predicting strong sales for both Microsoft and Sony's consoles. "For us and PlayStation, I think that the manufacturing supply chain is going to dictate [market] share more than anything else."
Spencer thinks the Series S will shine after the initial holiday frenzy, extending throughout the console's full lifespan. He explained, "I think, over the generation, our expectation would be that price really matters and that you would see the Series S sell more."
As the head of the Xbox brand, Spencer had positive things to say about both upcoming Xbox versions but revealed he was surprised by how well the Series S performed next to the Series X. It seems the Series S can load some games faster than the Series X since the S loads lower resolution graphics. Spencer also acknowledged that the requirements for game makers to develop new products for two sets of Xbox hardware could be limiting, but that he felt the positives of expanding the market outweighed the negatives.
Spencer hopes that the lower price point will help bring some former Xbox users back into the fold. For instance, he anticipates it might encourage casual gamers who skipped the Xbox One to upgrade from an Xbox 360. It would also present an excellent option for players who had their hearts set on purchasing a PS5 and wouldn't consider buying another $500 console at full price. At a much lower price point, supported by Xbox Game Pass and Microsoft's recent acquisition of Bethesda, the Series S might make a more compelling argument for gamers to purchase a second system.
Spencer went on to answer questions about the storage capabilities of both consoles. He noted that the Series S and the Series X could run Xbox One games from an external drive, although they would not benefit from the SSD's speed increases. The Xbox chief also said that the limited space on both next-gen units resulted from price control for those SSDs, but that he anticipated the cost of storage to one day decrease.
Only time will tell whether Spencer's predictions about the Series S are correct, but it sounds like it's shaping up to be a cost effective alternative to the Series X.