Everything Coming In Fall Guys' Next Update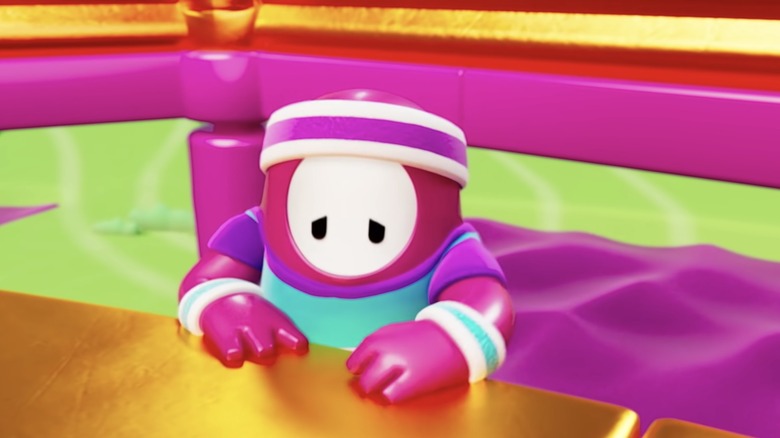 Devolver Digital
The second season of Fall Guys: Ultimate Knockout is about to get an update, and all the new content that's been teased for this mid-season shakeup promises to make the battle royale even more interesting. So far, it appears the 2.5 drop will include a new level, modifications to existing levels, the introduction of a character named Lil Yeety, a new naming system, and various bug fixes and tweaks.
B I G F A N S

A new level that features ONLY FANS

It drops into the game next week as part of the FAN BIG YEET LITTLE update

Also contains lots of fixes, a new naming system, Lil Yeety, and loads of level variations 👏👏👏 pic.twitter.com/dz1Ifo40gq

— Fall Guys 👑 (@FallGuysGame) November 5, 2020
The information comes from Fall Guys' irreverent Twitter account, which has dubbed the new update "Fan Big Yeet Little" — for now, anyway. Another tweet reveals, "You see, it's clever because there's little yeetus' hidden throughout the levels."
Naturally, the new level is the addition that's generating the most excitement right now: it features platforms in the shape of spinning fans — "ONLY FANS," as the tweet pointed out — complete with moving beams that can knock players out if they're not careful. The short video preview indicates the level will be simply designed, but require a certain amount of skill that can presumably eliminate less experienced players.
Additional details are scarce. However, there's plenty going on with the game right now to keep you busy in the meantime. A Godzilla skin was just made available to players in honor of the movie monster's birthday on Nov. 3, and K-pop boy band BTS is set to play the game on the next episode of its web series, Run BTS!. The episode airs on Nov. 10. 
Sportskeeda reports that, despite a high-profile start that made it a surprise summer hit, the player count for Fall Guys is fading quickly based on its alleged Steam stats. If that's true, the developer may be encouraging this ongoing buzz to revive interest in the title as it continues to compete with other current battle royale games like Fortnite, Apex Legends, and Call of Duty: Warzone.
Fall Guys is in the middle of its head turning second season, which has a medieval theme that includes appropriately-themed skins. The first season went from Aug. 4 to Oct. 6, so fans can expect a similar run until the third season begins. That means a mid-season update must be imminent if it's planned for the halfway mark of Season 2. The tweets indicate the team at Mediatonic have been working on the update diligently for a month, but there's no word yet on when exactly it will release.