This Massive K-Pop Group Is About To Get In On The Fall Guys Action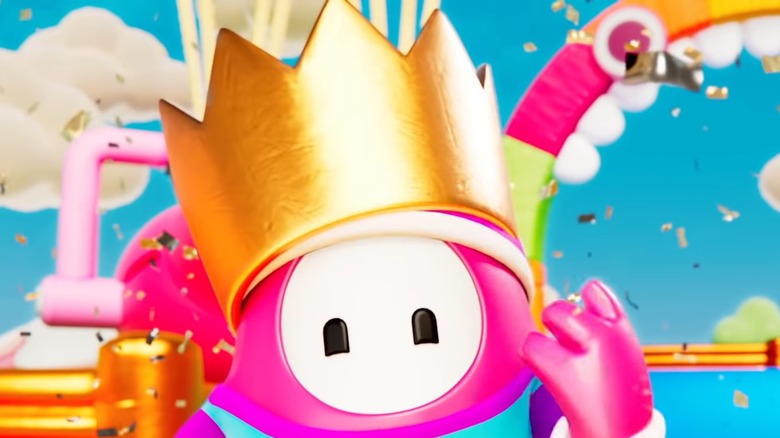 Devolver Digital
Being a celebrity isn't all fun and games. Long hours, unwanted attention, and the fear of losing universal appeal take their toll. In other words, stress is a real problem in a celebrity's life, and sometimes you just need to blow off some steam. Playing games with friends, especially video games, can help alleviate stress, and if you're a celebrity whose stress-crushing activities are recorded for all the world to see, every game you play becomes noteworthy. Case in point, members of the K-pop group BTS will soon broadcast their time playing Fall Guys: Ultimate Knockout.
BTS, short for Bangtan Sonyeondan (better known as Bangtan Boys), is a seven-man Korean boy band that has been around since 2013 and has acquired quite a bit of success outside of Korea. The band put out four number-one albums in the US in less than two years, a record that has yet to be matched by any band save the Beatles. BTS also has its own mobile game, BTS World, as well as a web series called Run BTS! Each episode features the members engaging in quirky little activities, and the latest episode pitted BTS against the Korean esport team T1 in several rounds of League of Legends and What the Box? It did not go well for BTS. 
The webisode concluded with a quick "Next time on Run BTS!" segment that previewed the upcoming series of fights between T1 and BTS. The upcoming episode will feature the teams going head-to-head in two games: Gang Beasts and Fall Guys: Ultimate Knockout.
Gang Beasts, for those of you who've never heard of the game, is a lesser-known slapstick multiplayer party title with intentionally floppy physics and characters. But, Fall Guys is arguably the bigger of the two games and far more noteworthy, especially because it won't just pit T1 against BTS. As a battle royale game, Fall Guys matches consist of up to 60 players from around the world, and each player can only invite up to three friends to participate in a Fall Guys match. T1 and BTS will have to pick their two best and brightest — and luckiest — to participate against 56 other players. Given the nature of Fall Guys games, there's a chance neither T1 nor BTS will walk away with the winner's crown.
Regardless of the potential outcome, Fall Guys fans and BTS fans alike are excited for the upcoming match, as are the developers at Mediatonic. The official Fall Guys Twitter page is spreading word of the event, and most of the channel's followers are excited.
The upcoming BTS vs. T1 vs. the world match is noteworthy because despite Fall Guys' explosive popularity in the West, the game is lagging behind other, more entrenched titles in Korea. Sites that tune into Korean entertainment and business have stated that games such as League of Legends, Overwatch, and PlayerUnknown's Battlegrounds dominate the multiplayer landscape in Korea. While the League of Legends match in the latest episode of Run BTS! was likely selected to take advantage of the game's already overwhelming popularity in Korea (and probably T1's history with the game), the show's upcoming dive into Fall Guys speaks volumes for that game's growing fame. Or, perhaps Fall Guys was selected because BTS and Fall Guys are big in the US, and the competition organizer wanted to capitalize on their Western fanbases. Regardless of the impetus, Fall Guys – as well as Gang Beasts – might experience a sudden rise in Korean players due to the upcoming webisode of Run BTS! 
While seemingly unprecedented, this Fall Guys competition isn't the first time BTS has crossed paths with a popular Western video game. In September, Epic Games announced that Fortnite would host the world premiere of BTS' single "Dynamite" (which is in English, so non-Korean speakers in the US can watch it without a language barrier). And, any BTS fans in the Fortnite audience can purchase one of two emotes choreographed by the BTS gang. With any luck, Mediatonic will also produce official BTS-themed Fall Guys skins. The studio did the same for Godzilla, so a BTS costume doesn't seem out of the question.
Since the last episode of Run BTS! aired on November 3, audiences eager to see part two will have to wait until November 10, but they will have plenty of ways to watch the Fall Guys and Gang Beasts action unfurl. The show will be available through Weverse, as well as unofficial YouTube channels such as BTS EngSub.