The Real Reason The Medium Got Delayed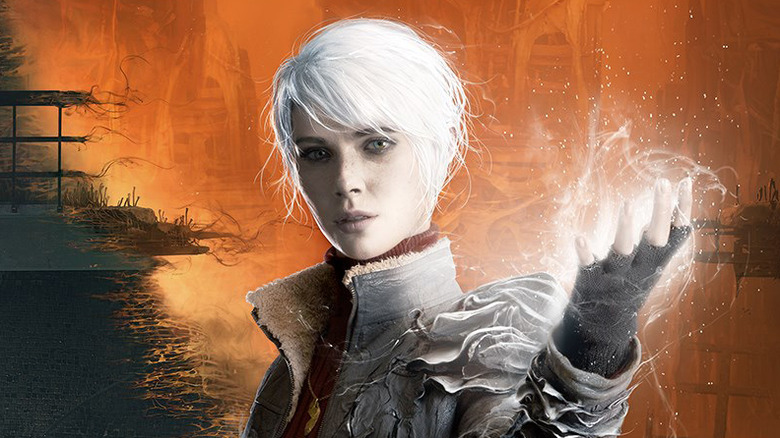 Bloober Team
Microsoft is gearing up for the release of its next gen consoles, Xbox Series X|S. And as far as launch day titles go, both consoles will offer a nice variety of third-party published games, a port of a first-party Xbox IP from PC, and a massive collection of backward compatible classics.
One of the Xbox Series X|S console exclusives that's elicited some excitement is Bloober Team's psychological horror experience, The Medium. Even though it wasn't originally set up as a launch title, fans knew they could look forward to playing it a month later. But sadly, that no longer seems to be the case. Due to a tweet sent out by the game's development team, everyone learned that it will take a little while longer to finally get their hands on it.
Instead of releasing on Dec. 10, 2020, The Medium will now launch Jan. 28, 2021. That announcement is due in part to the game development difficulties that come with the current pandemic and the crowded lineup of games releasing this holiday season. You may notice that The Medium's original release date is the same day Cyberpunk 2077's launch recently got pushed back to. It wouldn't be much of a stretch to conclude that this might have something to do with The Medium's subsequent delay and "the current schedule of other games on the market" the announcement alluded to.
The developers also made sure to promise that "the additional development time will allow us to add further polish, ensuring we deliver out innovative, genre-pushing vision of interactive psychological horror." Bloober Team certainly knows a thing or two about creating terrifying interactive experiences. Its past work includes the Layers of Fear series, Observer, and Blair Witch. Observer will come to next-gen consoles and PC via the upgraded edition called System Redux, plus Blair Witch is set to arrive on both versions of the Oculus Quest VR device. 
The Medium's brand of horror will incorporate the concept of moving between the real and spirit realms. The game's main heroine is named Marianne, who uses her psychic abilities to fend off evil forces and solve a bevy of mysterious puzzles. Along with The Medium, a slew of other noteworthy games will hit Xbox Series X|S in 2021, including Outriders, Little Nightmares 2, Balan Wonderworld, and Bright Memory: Infinite. First-party exclusives, such as the new Fable, State of Decay 3, and Halo Infinite, are hopefully on track for a 2021 release as well.