Spider-Man: Miles Morales Includes A Heartwarming Boseman Tribute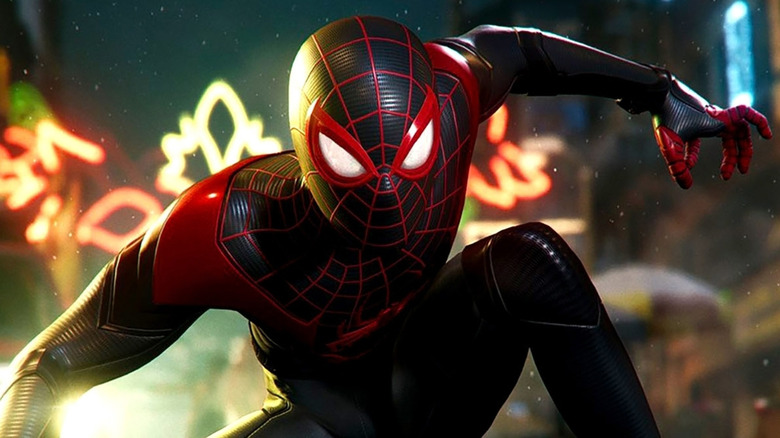 Sony Interactive Entertainment
PS5 launch title Marvel's Spider-Man: Miles Morales is making waves among everyone that's played it.
Critics have showered plenty of positive praise upon the young web-slinger's next-gen adventure. Fans have been equally enamored with the game due to it featuring a signature suit from a popular film, while a certain feline companion from the game has caused quite a stir with its classic meme revival. However, there's another favorable element tied to Spider-Man: Miles Morales that is equal parts heartwarming and heartbreaking.
GameSpot's Alessandro Barbosa ended up completing the game and coming across a special message as the credits rolled. As you probably know already, actor Chadwick Boseman passed away due to complications with colon cancer. He's most notable for his role in films such as Black Panther and several other Marvel Cinematic Universe movies. Insomniac Games saw fit to honor Boseman's superhero presence on the big screen by dedicating a message to him at the close of the latest Marvel game. The tribute reads as follows: "In loving memory of a noble king, Chadwick Boseman. His honor, strength, and compassion will reverberate for generations to come. Wakanda Forever."
This isn't the only instance of Boseman getting honored by the video game and film communities. Fortnite players made sure to show their respects to the late actor by gathering near a Black Panther statue that's featured prominently in the game. Marvel Entertainment also posted a tribute video that showcased Boseman's starring roles in the MCU films.
In regards to Black Panther 2, Superhero Hype noted that Marvel Studios' executive vice president Victoria Alonso denied reports of the sequel featuring a digital rendition of the late actor. "There's only one Chadwick, and he's not with us," Alonso stated. "Our king, unfortunately, has died in real life, not just in fiction, and we are taking a little time to see how we return to the story and what we do to honor this chapter of what has happened to us that was so unexpected, so painful, so terrible, really."
Spider-Man: Miles Morales features another notable tribute worth mentioning. GamesRadar's Kai Delmare mentioned a side quest in the game that has ties to the Black Lives Matter movement. By protecting the people of Harlem, Miles ends up being gifted with a special "Uptown Pride" suit decked out in black and gold. At the end of that special quest, a cinematic plays out that showcases Miles in his new suit while standing in front of a BLM mural.
Seeing as how Miles is a superhero with Afro-Latino origins, it's easy to see why this tribute appeared in his debut game.