This Marvel Supervillain Is Headed To Fortnite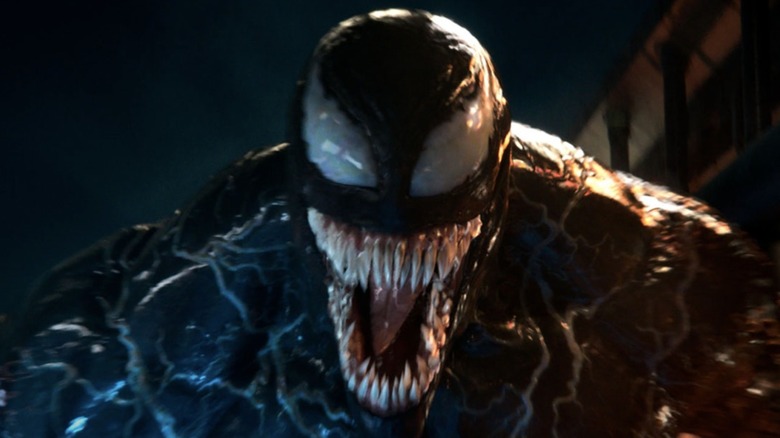 Sony Pictures Releasing
Fortnite's collaboration with Marvel Comics has been pretty fruitful thus far.
Chapter 2 – Season 4 of the mega-popular battle royale game introduced its massive player base to a new event called the Nexus War. The biggest change that came with that seasonal event was the introduction of brand-new Marvel hero/villain skins. Along with their crossover presence within Fortnite, some of those Marvel icons even have their own in-game locations littered across the map.
Season 4 is still in full swing and dropping new Marvel skins. And it looks like one of those skins will transform players into one of Spider-Man's most recognizable villains/allies. An intriguing teaser pic was recently tweeted out by the official Fortnite account, and it's pretty evident that the skin being shown off belongs to Venom.
That same tweet noted that this upcoming Venom skin will be unlockable through Fortnite's Marvel Knockout Super Series. For those not in the know, that tournament mode pits teams of three against each other in a bid to ascend the leaderboard and acquire huge rewards. For the teams that place high enough, the players within that team are rewarded with a Marvel skin much earlier than everyone else. The first skin that has been a part of the Marvel Knockout Super Series thus far includes Daredevil. And now players can participate in the tournament to obtain Black Widow's outfit from her upcoming solo film.
It's worth noting that the skins attached to the Marvel Knockout Super Series aren't locked behind it. Like the Daredevil skin before it, the upcoming Venom skin will most likely be purchasable within Fortnite's in-game shop at a later date. Speaking of Marvel skins, Fortnite has a wealth of them to play with. Some of the skins players can utilize include Thor, She-Hulk, Groot, Storm, Doctor Doom, and so on.
The ever-expanding world of Fortnite may have even more game-changing content on the way. Some insider info tied to a Tweet pointed to a big announcement being planned for the game at The Game Awards, which is scheduled to broadcast on December 10. This rumored seasonal event is said to be "the biggest they've ever done and it will change the future of Fortnite." Fortnite's player base will probably get even bigger in time for that event now that it's playable on next-gen devices. And as expected, big upgrades are a part of the game's port to the PS5 and Xbox Series X|S.