Fall Guys Teases New Season 3 Content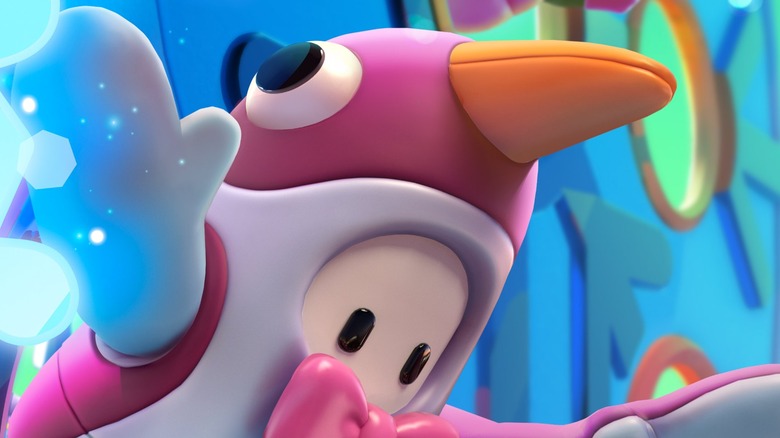 Devolver Digital
Fall Guys, the battle royale that's taken the gaming community by storm, is deep in its second season, which brought about some head-turning changes. As players enjoy everything new Season 2 has to offer, developer Mediatonic has begun building hype for Season 3.
The Fall Guys Twitter account recently announced that the current medieval theme will make way for a very thematically appropriate winter theme. With the Season 3 update, fans will see new costumes and new hazards, which promise to add some exciting and fresh challenges.
The "Pegwin" is one of the upcoming Season 3 assets, and it looks like a toy penguin with "wheely feet." Its exact function has yet to be determined, for it could act as a stage hazard or perhaps — as Game Rant pointed out — some sort of collectible item. Another asset resembles a tetherball pole, which has yet to be named.
As far as new costumes, at present, the promo shows off snowman and penguin outfits. It's also worth mentioning that the two competitors seen in these costumes are running in a festive winter wonderland stage where they must hop through a wheel filled with holes. Looking at the image, you can only imagine how much ice physics will play into the new round of challenges.
The folks at Mediatonic have only dished a small preview to whet those appetites, but they have promised that more will be revealed at this year's The Game Awards. Earlier in November, a community director on Reddit offered a small glimpse at what was planned for Season 3. This came in response to disappointment over Season 2's lack of new content. Essentially, the team behind Fall Guys wanted to deliver even more in their next iteration, and the community director confirmed that their focus for Season 3 would be on bringing even more levels.
The team's size was a big factor that held them back for Season 2, however, they are in the process of opening a new studio. According to Mediatonic art VP Phil Warner, "We have a long-term commitment to creating engaging seasonal content for our Fall Guys player-base." As the team continues to grow, players in the community can look forward to bigger and better expansions with each new season.
Whatever announcements are planned, it's very likely that Season 3 will be even bigger than Season 2. 2020's The Game Awards are scheduled to take place on Dec. 10, so tune in then to find out more.