This Fan Favorite Operator May Finally Be Headed To Call Of Duty: Warzone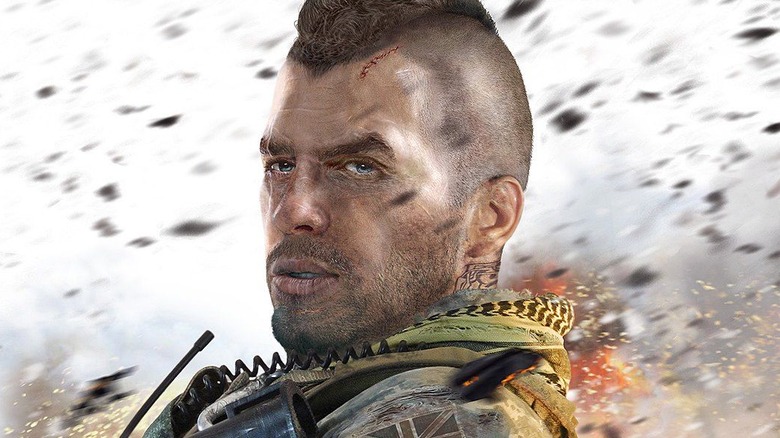 Activision
Are you curious about what the future holds for Call of Duty: Warzone? Earlier in the year, Daniel Alegre, C.O.O. of Activision, announced big changes to Warzone, including integration with Call of Duty: Black Ops — Cold War, as well as a ton of fresh content. It now looks like information has dropped regarding the latest addition.
According to an apparent leak from fan-site Call of Duty Tracker, John "Soap" MacTavish will seemingly arrive as a part of the Soap Operator Bundle, and fans are sure to be pleased with this beloved character's return. You can score the complete bundle — which includes new skins, missions, weapons and more — for 2,400 CoD points when it's released.
Speculation of his arrival first came after fan account ModernWarzone tweeted about the possibility of a major content drop. A day later, YouTuber Geeky Pastimes released a video of a Warzone cutscene that teased Soap's arrival, adding even more credibility to the rumor.
Soap appeared in Call of Duty 4: Modern Warfare, Modern Warfare 2, and Modern Warfare 3, and in his relatively brief time in the series, he has gained quite the fanbase. Sadly, he was killed off in Modern Warfare 3 but later made a comback as DLC for both Call of Duty: Ghosts and Call of Duty: Black Ops — Cold War. As such, it makes sense that this fan-favorite would join the highly popular Call of Duty battle royale.
John MacTavish isn't the only new addition to Call of Duty: Warzone that should get gamers excited. Early last month, there were hints at a new map called Vozrozhdeniya Island, which was thought to be a throwback to Rebirth Island from the first Call of Duty: Black Ops. Data miners were eager to get the scoop, and Rebirth Island was officially revealed not too long after — weird respawning glitches and all.
Season 1 of Black Ops – Cold War marks a major turning point in the franchise, as it brings three CoD subseries into a unified experience. As such, there are still a lot of questions in the air as to how this content will continue to roll out. An official release date has not yet been announced for Soap, but his return is definitely something to make gamers excited.
With the possibilities of fan-favorite content like Soap and Rebirth Island returning to the franchise, one can only imagine what other great surprises Activision and Infinity Ward could be cooking up. It's possible that with the unification of CoD branches, the developers may want to bring even more of CoD's most celebrated assets to the game as season 1 of Black Ops — Cold War progresses.