There's A Strange Catch In The Fortnite And G.I. Joe Collaboration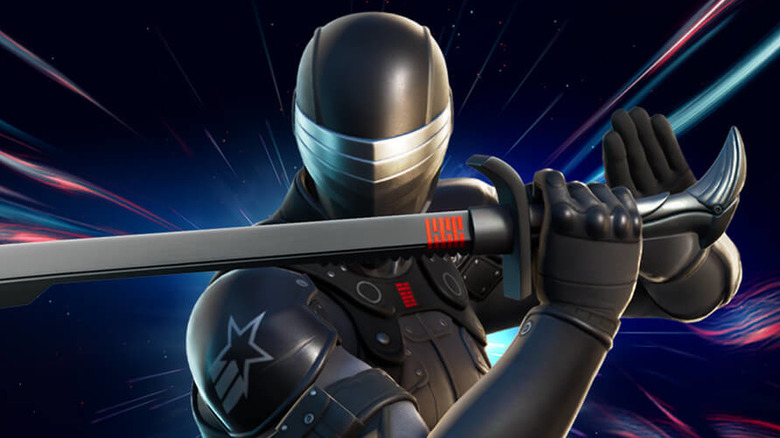 Epic Games has been throwing virtually every iconic pop culture character available at Fortnite. What started with the inclusion of the Mandalorian and Sony and Microsoft mascots Kratos and Master Chief has given way to an ever-marching library of action hero (and villain) skins, including the T-800 Endoskeleton and Predator. And now, fans can add G.I. Joe's Snake Eyes to the list. To celebrate, Epic and Hasbro joined forces to produce a special toy based on the skin, based on the character — based on the toy. However, if you want the new figure, you will have to jump through an extremely odd hoop to snag it.
Currently, you can pre-order the "Fortnite G.I. Joe Collab Snake Eyes: Zero Point Edition" action figure from Hasbro Pulse. The figure sports 20 points of articulation, one alternate hand, and 10 weapon accessories based on Snake Eyes' iconic blade and Fortnite weaponry, including an explosive plunger (every ninja's favorite weapon). But, this collaboration comes with a few caveats. First, the price tag. If you want this special Snake Eyes figure, you need to shell out $40. It's also limited to two per customer, but that's not all. Since the collaboration is going on now in-game, you might assume the figure will be ready in a month or two, and you would be correct if it were sold through any other digital store. But this is Hasbro Pulse we're talking about, the storefront that once ran a crowdfunding campaign for a $575 Unicron figure.
When will the Snake Eyes collab figure ship? Jan. 15, 2022.
Not only is this single special figure more expensive than the average Fortnite figure four-pack, it won't be available for a year. The current Fortnite season will have ended five times over by then; the skin will probably have rotated out of the store, and players will have moved on to the next big skin (maybe a Power Rangers-themed banana, the way things are going). Moreover, the Snake Eyes figure is a limited run, so you will have to think fast about if you're willing to spend that much money, only to wait until 2022.
While the collaboration's heart is in the right place, the execution seems a little lacking. If only Epic Games and Hasbro had prepared the figure for shipping in advance. Maybe if the companies team up for some Transformers skins, audiences won't have to wait as long for the tie-in figures.