Fortnite Could Be Adding 2021's Hottest New Character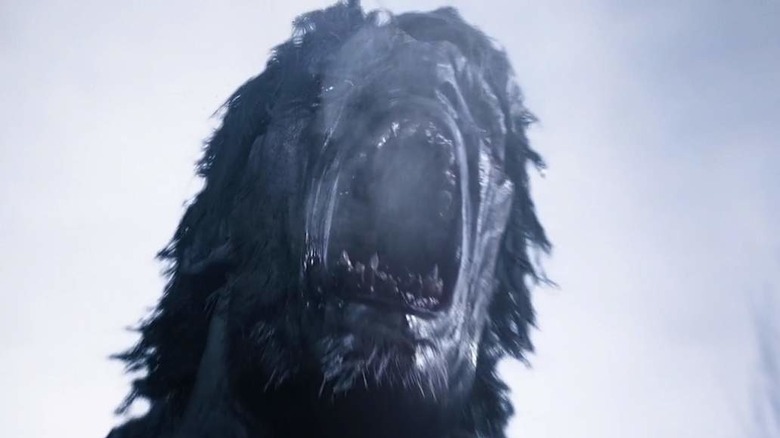 Fortnite has seen some truly wild collaborations over the years, including team-ups with blockbuster comic and film franchises. Characters from other video game franchises have also gotten in on the fun, including last season's Kratos and this season's Lara Croft character skin. Rumors are beginning to gather strength concerning Fortnite's next possible character skin, and it's looking like thirsty survival horror fans are about to have their time to shine. Epic Games seems to be hinting that none other than Lady Dimitrescu, Resident Evil Village's infamous "sexy vampire lady," is coming to Fortnite.
Mike Dulami, a Fortnite fan who frequently shares leaks and rumors related to the franchise, recently tweeted screenshots of a what is purportedly a survey from Epic Games. This survey, which Dulami claims was sent to "selected Fortnite players," lists a number of characters, artists and brands. Players are asked to mark which ones they've heard of before. Among the video game characters listed in the survey are Mortal Kombat's Scorpion, DC Comics' Joker, Alucard from Castlevania, and the ever-popular Lady Dimitrescu.
Lady Dimestrescu became a viral sensation following the release of Maiden, a playable demo for Resident Evil Village. The vampire lady's insane stature immediately became a topic of conversation, as well as the focus of many memes and cosplay projects. With Resident Evil Village's May release rapidly approaching, Lady Dimitrescu fandom is reaching a fever pitch, and it makes perfect sense that Epic Games would want in on the action. 
Epic has sent out similar surveys in the past as a way of gauging fan interest in certain crossover possibilities. A survey from last year, which was shared by fans on Reddit, listed a few characters who have since gone on to appear in Fortnite, including the aforementioned Lara Croft. Of course, that survey also listed characters like Grand Theft Auto 5's Franklin, who definitely hasn't appeared in Fortnite. 
The appearance of Lady Dimitrescu in this latest survey doesn't 100% guarantee that she'll show up in the popular battle royale game, but that hasn't stopped fans from expressing their excitement in the comments on Mike Dulami's post. On the other hand, a few people have said that their version of the survey didn't include Lady Dimitriscu as an option, which seems to imply that Epic may be testing the waters with even more characters than fans realize.
Only time will tell if Lady Dimitrescu will actually get her Fortnite debut. Just to be on the safe side, players may want to start crafting the right bows to fend off a vampire attacker.