Fortnite's New Skin Is Also Its Old Map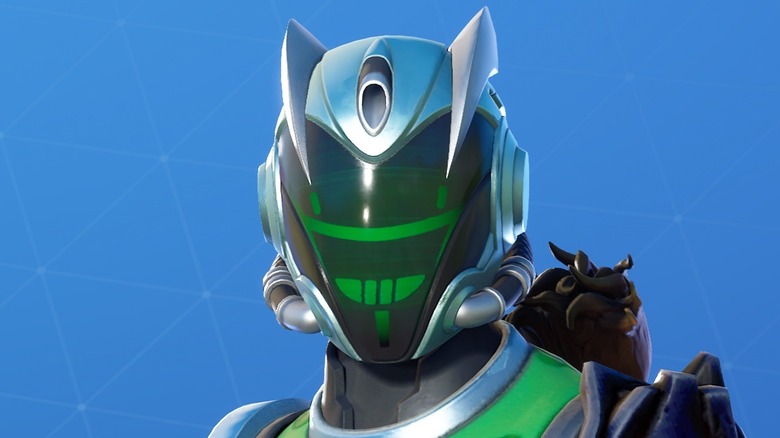 It's been a year and a half since Epic debuted an expansive new map for "Fortnite: Chapter 2," and fans have been asking for the old map to return ever since. Well, Epic has essentially granted the monkey's paw version of the old map to players — in the form of a new skin. 
This skin, which is called "Eco," was designed by nollobandz to represent some of the points of interest on the old version of the "Fortnite" map. While the map in "Fortnite" constantly gets new locations for each new season, many of the locations from the old map have not returned since it was retired. The original concept by nollobandz had the Eco character being the Visitor, one of the Seven, a mysterious organization in "Fortnite" lore. The Seven has been around since the early seasons of "Fortnite," but the most recent season featured one of the Seven joining in a single-player mission to kick-off the season.
Eco was appropriately released on April 22, Earth Day. The skin looks like a walking planet, featuring nods to different points of interest from the original map, like the Tomato Town mascot belt buckle and the Dusty Depot buildings on the thigh. Eco also has the clock face from Tilted Towers on one arm, with the volcano as the other arm. Eco's shins feature Polar Peak and Paradise Palms on either leg. Other parts of the skin feature metallic pieces and a computerized face on a space-age helmet. For a full breakdown, YouTuber randomChievos has posted a video explaining every single reference on the Eco skin.
According to Eurogamer, the skin has arrived with the Globee back bling, which is designed as a small planet with miniature versions of the points of interest. The Devourer's Bane harvester tool is also available for purchase for 800 V-Bucks, for those that want the complete set. While this skin is unlikely to be a tease for the return of the original map, it's another of the many community skin concepts that "Fortnite" has put into the game. Another recent example is the spooky Oakwitch set.
In addition to these newer fan-created skins, "Fortnite" has been adding a number of skins based on other properties, with the latest being Aloy from Sony's "Horizon Zero Dawn" and the upcoming "Horizon Forbidden West." Epic Games also sent out a survey in March to ask players what characters they were familiar with, listing off Scorpion from "Mortal Kombat," Alucard from "Castlevania," and even Lady Dimitrescu from the upcoming "Resident Evil Village," hinting that new skins were still to come.