You Need To Play This Fortnite Mission Before It Disappears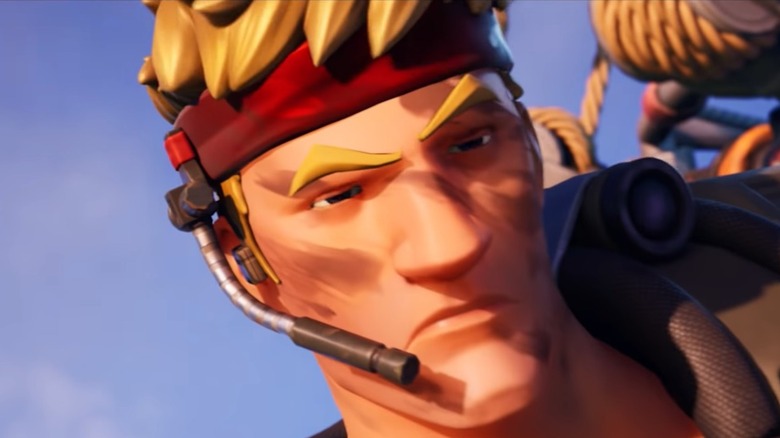 Fortnite's Chapter 2 – Season 6 has brought many new elements along with its Primal theme, including new NPC animals roaming the island and fan-favorite skins such as Lara Croft. It also arrived with the first official single-player event ever to appear in the game, but apparently it won't be here for long.
According to the official Fortnite Twitter, the "Zero Crisis Finale" playlist will no longer be available once Fortnite undergoes its regularly scheduled downtime to deliver an update next week. At this point, Epic has not provided an exact date or time that the game will deliver the update, although it is worth noting that Fortnite's first significant update this season arrived on Tuesday, March 16. Some fans predict this will establish a regular Tuesday update schedule, but that has yet to be confirmed by Epic. In the past, updates have often landed on Tuesdays or Thursdays.
The "Zero Crisis Finale" single-player event was the dramatic ending of Fortnite's tumultuous Chapter 2 – Season 5. In the mission, players have an opportunity to try and help Agent Jonesy deal with the Zero Point at the middle of the island, which was replaced by a giant spire in Season 6. Players don't have to dedicate too much time to complete the "Zero Crisis Finale," as a standard playthrough on YouTube shows that it can be finished in less than fifteen minutes.
The mission packs plenty of surprises into those fifteen minutes, however. The sequence begins with a three-minute cinematic directed by the Russo Brothers, best known for their work on Avengers: Endgame. In that opening, Agent Jonesy fights alongside some of the many heroes who have joined Fortnite over the last season, including Kratos, Ripley, and Master Chief. The entire experience ends with an encounter with The Foundation, which fans have speculated may be voiced by Dwayne "The Rock" Johnson.
All in all, the "Zero Crisis Finale" is a fun event that's easy for anyone familiar with the game to get through in little time, making it worth playing before it disappears sometime next week. The single-player nature of the experience is a departure from Fortnite's previous season-ending events, which were hosted live and often led to overcrowded servers and disappointed fans. In theory, allowing users to play the game's most dramatic moments on their own time should make them more accessible while giving Epic Games even more control over the experience.