What Dwayne 'The Rock' Johnson Would Look Like In GTA 5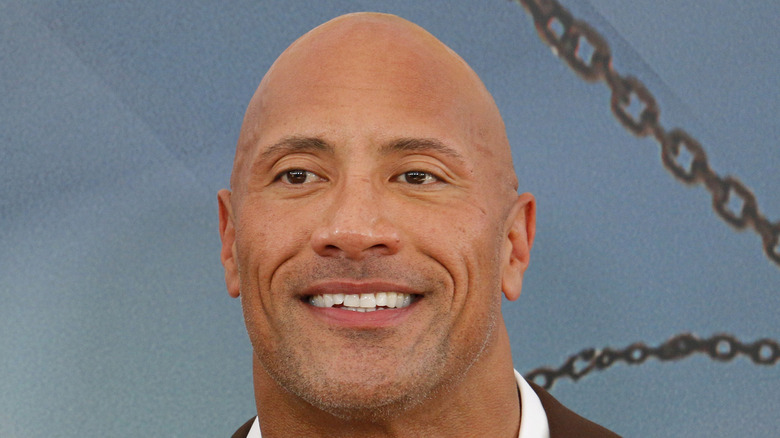 Shutterstock
You smell that? Someone's in the kitchen, and it smells a lot like Dwayne "The Rock" Johnson. Or perhaps it's the more copyright-friendly "John 'The Boulder' Dwaynson," as one Redditor put it. Either way, if you've ever wondered what the superstar wrestler-turned-actor would look like in a "Grand Theft Auto" game, you're in luck.
Advertisement
A recent "Grand Theft Auto 6" leak brought more disappointing news as gamers likely won't see the game until at least 2024. Fans are probably growing tired of "GTA 6" teases, but what can they do besides get creative and work with what they have? That's one of the big reasons why gamers have been doing whatever they can to spice up the current title. In fact, players have even created "Grand Theft Auto" roleplaying servers in an attempt to keep the fifth installment interesting.
Over on Reddit, a user named kry_some_more got into the creative spirit to cook up some concept art for a new "Grand Theft Auto" character. As you might have guessed, this particular character is based on someone who's usually the one doing the cooking.
Advertisement
Redditor kry_some_more whipped up a very impressive and stylistically-accurate depiction of what Dwayne "The Rock" Johnson would look like if he were to step into the role of a "GTA" character. The artist doesn't mention the star by name, but perhaps as a true testament to their artistic rendering, others in the thread knew who was leaning against that Ferrari.
A role he was destined to play
Users in the thread are clearly having a lot of fun with this image. One user declared that this character is "the Boulder for copyright reasons." Someone else wrote, "The RockStar games," playing off the name of the developer of the "GTA" series. 
Advertisement
Not everyone is fully convinced it's The Rock, however. One Redditor said, "looks like a mix between Pitbull and the Rock," and a few others agreed. For anyone doubting that the rendering is 100% meant to be The Rock, someone in the comments provided the image it was based on, proving once and for all that the wrestler-turned-actor is the sole inspiration.
Dwayne Johnson certainly seems like he would fit right in as a character in this universe. While a "Grand Theft Auto" movie probably won't ever happen, this picture could serve as a compelling argument for making a film adaptation and casting the charismatic actor as one of the leads.
If The Rock did get involved in the "GTA" franchise, then it wouldn't be the first time an actor was inspired by fan creations. After the internet became obsessed with making roast videos of Franklin Clinton, the game's voice actors recreated the famous scene themselves.
Advertisement