Ghost Of Tsushima's New God Of War Easter Egg Is Turning Heads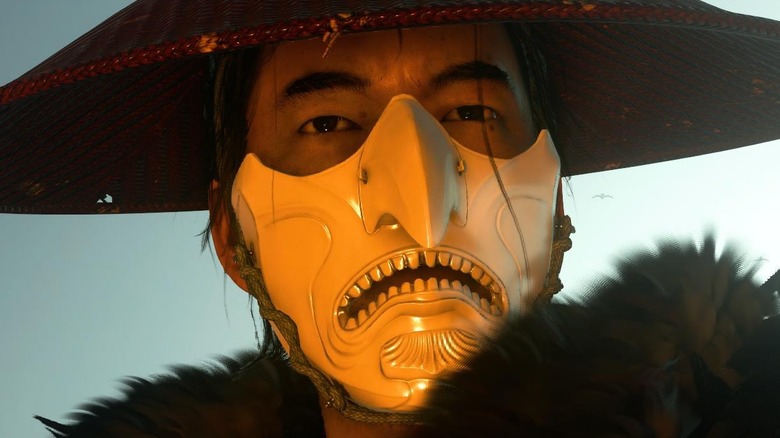 "Ghost of Tsushima," Suckerpunch's samurai power fantasy, received a slew of positive reviews from critics when it dropped in July 2020, with even Japanese outlets like Famitsu heaping praise on the open-world adventure title. The adventures of titular "ghost" Jin Sakai recently received a PS5-upgraded "Director's Cut" edition, which comes with an expansion DLC called "Ghost of Iki." And while plenty of new additions to the base game have caught players' eyes — like the adorable, heartwarming animal-petting mechanics — it's a "God of War" Easter egg that has gamers everywhere doing a double-take.
"Ghost of Iki" pays homage to a number of first-party PlayStation IPs, including "Bloodborne" (a game that made plenty of us rage quit), "Shadow of the Colossus," and, of course, "God of War." While exploring the island of Iki, Jin can visit a number of statues with nearby scrolls that provide riddles that need to be solved in order to obtain a unique set of armor. And while some of these areas are pretty nondescript-looking, the "God of War" Easter egg shrine is anything but.
Remember that big tree with the handprint on it from the opening of 2018's "God of War?" Well, it turns out that its identical twin can be found in the wilderness of Iki Island, complete with an axe lodged in its trunk — an obvious reference to Kratos' Leviathan Axe.
While it's a cool little homage to the long-running action-adventure series, and while it comes with some nifty armor to boot, the reference might be more than just a simple nod to "God of War."
Is a 'God of War: Ragnarok' reveal on the horizon?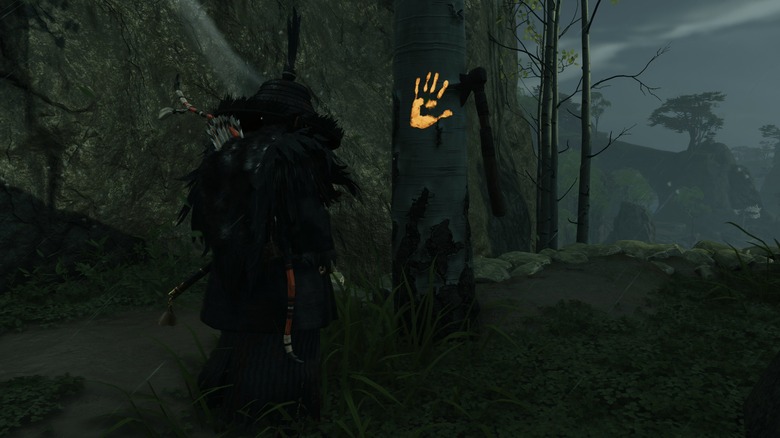 The "God of War" Easter egg in "Ghost of Tsushima" is just the latest example of Sony and its first-party studios hiding fun little nods to one another in games. Heck, "Astro's Playroom," the cute platformer that comes bundled with the PlayStation 5, is basically a collection of Easter eggs mashed together — or, scrambled, if you will — resulting in one big PlayStation-themed omelet. But this latest Easter Egg recalls another reference placed into a game by a first-party studio, one that foreshadowed one of PlayStation's most beloved games.
In "Uncharted 3: Drake's Deception," players discovered a newspaper bearing the headline, "Scientists are still struggling to understand deadly fungus." Fans of "The Last of Us" will immediately make the connection between the "Uncharted" newspaper headline and the deadly Cordyceps Brain Infection pandemic from "The Last of Us," which mutated normal humans into the grotesque Clickers. Interestingly enough, "Uncharted 3" was released in 2011, the year that "The Last of Us" was announced, and two years before its release.
Could this latest "Ghost of Tsushima" Easter egg mean that a big "God of War: Ragnarok" reveal is coming, similar to how "Uncharted 3" referenced the then-unreleased "The Last of Us?" "Ragnarok" is supposedly dropping in 2022 (following an initial delay from 2021), meaning the clock's a-tickin' for some kind of trailer courtesy of developer Santa Monica Studios. In all likelihood, however, the reference is nothing more than a nod from Suckerpunch to a fellow first-party development team. Still, it also serves as a reminder that one of the PlayStation 5's biggest new games is right around the corner.