YouTube Is Taking Away Twitch's Last Big Advantage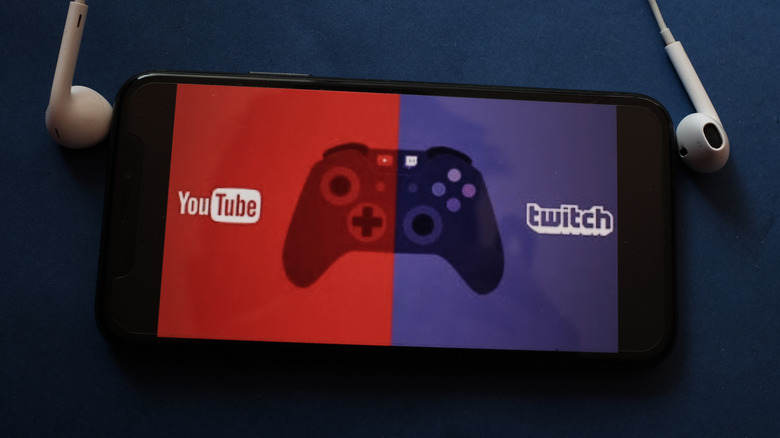 DANIEL CONSTANTE/Shutterstock
As Twitch pushes creators away with features no one asked for, YouTube Gaming is once again swooping in and swaying streamers towards its platform by giving them exactly what they want. If YouTube Gaming really started looking better than Twitch in Sept. 2021, the budding platform's Oct. 29 announcement has only solidified its growing success. Now, YouTube's announcement about its addition of gifted subscriptions — along with several other features — might be the last straw for many gamers considering jumping platforms.
The scene is set for a full YouTube Gaming takeover, but it's more than the just-announced new and upcoming features that have people considering the platform. Twitch seems to be digging its own grave in some ways, especially with its new paid "boost" feature that has fans in an uproar. Critics considered this pay-to-win system — which allows viewers to pay to promote their favorite streamers — to be unfair, especially given the fact that it doesn't help those using Twitch increase their income, and it could theoretically penalize marginalized creators based on algorithms and viewer biases.
On top of that, Twitch has seen the exodus of some of its biggest streamers this year as they chose to go with exclusive YouTube Gaming deals, including DrLupo and TimTheTatman. The platform also recently dealt with a large-scale leak that stirred up some contentious conversations around private creator financial information made public in the earnings leak. Given all the controversy Twitch has created for itself this year, the fact that YouTube Gaming is finally implementing some of Twitch's most helpful features on its own platform could be a big game-changer.
So, what exact changes will give YouTube Gaming such a competitive edge? It turns out there are quite a few.
YouTube Gaming Brings Big Changes
In a video announcement shared on Twitter Oct. 29 (and a blog with further details), YouTube's Global Head of Gaming, Ryan "Fwiz" Wyatt, broke down some key new features YouTube Gaming has added, as well as some that are coming up. As he shared with fans in the video, 2022 is slated to be "YouTube Gaming's biggest year."
Right out of the gate, Wyatt shared that creators currently have 10 ways to monetize their content, and more are on the way. Some of the new monetization ideas were solicited from creators by YouTube Gaming, and continuing to implement talent feedback is something the platform will be doing on a regular basis. The blog pointed out some other recently-added features that have been spearheaded by creators, including Valkyrae's idea for Subscriber-Only Chat and CouRage's help getting Clips off the ground.
Even more promising are the features still in development. As is the case on Twitch, YouTube Gaming users will be able to enjoy Gifted Memberships in 2022. Also in the pipeline are improved tools for chat functionality and moderation (possibly meant to keep up with these Twitch updates), more Clips and Shorts integration, and improvements to help creators get discovered and grow their audiences. Perhaps most notably is the coming addition of Live Redirect for Gaming, "which will let you seamlessly send your viewers directly to another livestream once yours ends." Functionally very similar to Twitch raids, this feature might be the final nail in the coffin for the waning platform.
As Twitch and YouTube battle it out for the top spot in streaming, more features are sure to be unveiled in the coming months.