Dr Disrespect Reverses Course On Halo Infinite
"Halo Infinite" is winning over nay-sayers after its surprise multiplayer release, with even some of the most vocal and prolific voices changing their tunes. Streamer and YouTuber Dr. Disrespect had been among the players that felt "Halo Infinite" was doomed to fail, but now that fans have a chance to get their hands on a portion of the title, he's changing course. Why did Dr. Disrespect change his mind about "Halo Infinite" and what does that says about the game itself?
Advertisement
Herschel "Guy" Beahm IV, Dr. Disrespect, attained his fame through his bombastic streaming persona and is best recognized for his time playing competitive titles like "Call of Duty," "Apex Legends" and "Fortnite." Though Dr. Disrespect plays a wide variety of first-person shooters (FPS), he's cut his teeth in battle royales. Knowing that "Halo Infinite" was launching without any planned battle royale modes, Dr. Disrespect had previously worried about the longevity and engagement the title could achieve. That said, now that he's had a chance to get his hands on the game, Dr. Disrespect has a vastly different take.
What Changed for Dr. Disrespect?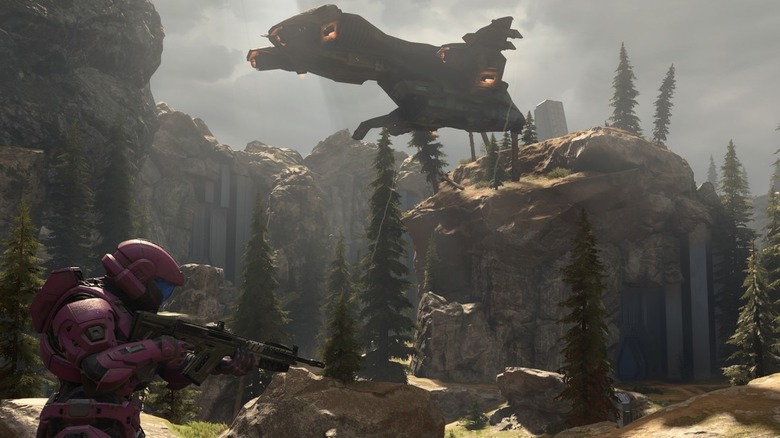 The "Halo Infinite" multiplayer launch filled many players with a mix of surprise and delight. Not only did it arrive earlier than anticipated, but it also thrilled the countless players who flocked to try it out. They found a polished multiplayer whose servers wouldn't crack under the immense pressure of launch traffic. Dr. Disrespect joined in on the praise from Twitter, saying, "Firm handshakes to Halo Infinite, the game plays so good." Naturally, he added his trademark "yayaya" at the end of the post.
Advertisement
Though leaks indicate that developers could have had a change of heart in regards to adding a battle royale mode to "Halo Infinite," Dr. Disrespect seems pleased for now. During his livestream (per Dexerto) Dr. Disrespect commented about "Halo Infinite" having the all-important "classic Halo feel" as far as multiplayer goes. He said, "The ranked grind, battle rifle, map designs, I love them all."
Dr. Disrespect did mention a few minor complaints he had with "Halo Infinite" multiplayer (maps and damage impact) but nothing that'll deter the personality from continuing to play the game. With positive reception flowing in from players and icons in the game industry reversing course on prior negative statements, the early release of "Halo Infinite" multiplayer has done nothing but strengthen the perception of Master Chief's latest endeavor despite feature setbacks.
Advertisement