This Is The Cutest Way To Play Elden Ring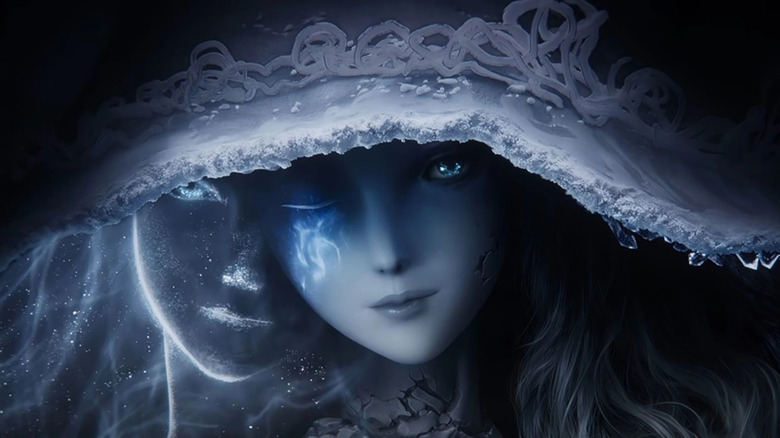 Bandai Namco
We may receive a commission on purchases made from links.
"Elden Ring" is known for its difficulty at this point. Following its February release, gamers everywhere have struggled to conquer FromSoftware's masterpiece with their sanity intact. However, some incredibly dedicated players already have multiple playthroughs under their belt and are looking for new ways to challenge themselves in the world of "Elden Ring." For example, a handful of hardcore gamers are partaking in "no hit runs," in which they beat the game without taking a single point of damage.
Of course, forcing yourself to quit after taking damage isn't the only way to add an extra challenge to "Elden Ring." Some gamers have decided to toss their Xbox and PlayStation controllers aside and take on the hardest enemies in "Elden Ring" using unconventional controllers. Notably, Luality beat the game's toughest boss using only a dance pad. But now, a truly weird and cute controller is being used for "Elden Ring." 
Recently, Wario64 posted an image on Twitter of a Fisher-Price Laugh & Learn Game & Learn Controller and jokingly wrote, "perfect for Elden Ring. may not be allowed for EVO." Of course, the joke here was the very idea that someone would use such an adorable kids' toy to play one of the toughest games in the biz. However, one fan turned that joke into reality.
An ingenious gamer played Elden Ring with a children's toy
On April 30, Twitter user @Rudeism posted, "it's done. I've turned this Fisher Price toy controller into a fully functional Xbox controller." Rudeism added, "It can do anything a standard controller can do, PLUS it still makes all the annoying sounds it did originally." The Fisher-Price Laugh & Learn Game & Learn Controller is a "pretend" controller that lights up and plays sound to help children learn colors, shapes, and numbers. With that in mind, it's nothing short of impressive that Rudeism managed to make the controller compatible with a gaming laptop, with the only visible modifications being an added USB port at the top. Rudeism has made a habit out of beating games with unconventional controller mods, like when he played "Hades" with a pomegranate and "Untitled Goose Game" with a goose costume. 
Unsurprisingly, social media users were eager to get a closer look at the modified toy. After leaving users in suspense for a day, @Rudeism tweeted out a video of the controller in action. Because the Fisher-Price controller mimics the Xbox controller, Rudeism mapped the buttons to feel natural to gamers, with the colorful A, B, C, and D buttons functioning as the Xbox's face controls. Additionally, the thumbstick and bumpers work in the same way an Xbox controller would.
However, the most impressive (and hilarious) part of the build was that all the original controller's baby-like sound effects functioned correctly. For example, when pressing the left thumbstick down, the controller sings a song, and when pressing the A, B, C, & D buttons, the controller calls out the corresponding color. These sounds help kids learn their colors, but when playing "Elden Ring," it's just absurd. Of course, gamers could pair the Fisher-Price controller with a tilt-shift photography mod and make "Elden Ring" one of the cutest gaming experiences around.