Sonic Origins Won't Sound The Way You Remember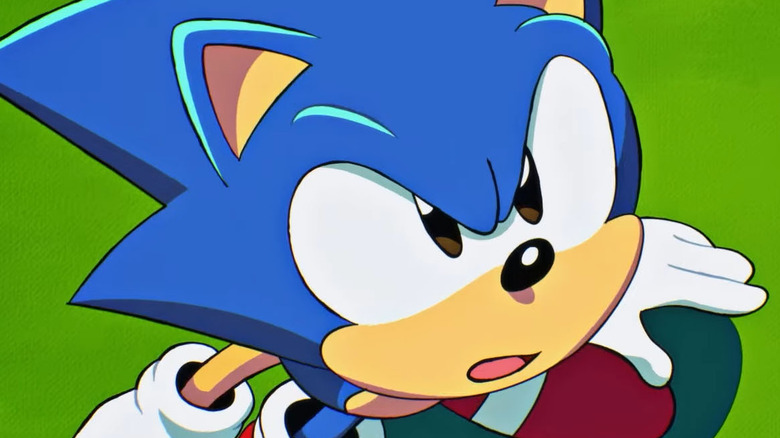 Sega
It seems that poor old Sonic just can't catch a break. Sure, the second "Sonic" film made video game movie history, but when it comes to his latest game announcements, the Blue Blur is having a rough time. The brand new title "Sonic Frontiers" is currently set to release this year, but after its recent gameplay reveal fans have asked for a delay. What will they play in the meantime if they get their way? Sega surely hopes they'll pick up "Sonic Origins" when it launches on June 23, but this remaster of four classic "Sonic the Hedgehog" entries has seen its fair share of controversy. 
Advertisement
For starters, the various editions and multitude of downloadable content attached to "Sonic Origins" is so confusing that Sega put out an equally confusing chart to explain the situation. This inspired a series of memes that even led publisher Devolver Digital to take a shot at "Sonic Origins." Only a short time after, fans were up in arms when Sega revealed plans to delist the original versions of the games. Now "Sonic Origins" has found itself in the middle of an odd situation regarding its soundtrack.
Sonic 3 & Knuckles requires some remixing
Sega
"Sonic" social media manager Katie Chrzanowski recently revealed some unfortunate news during an official "Sonic" livestream regarding the soundtrack for the remastered version of "Sonic 3 & Knuckles" as it will appear in "Sonic Origins." According to Chrzanowski, "While unfortunately we can't use all the original sounds from the Sega Genesis version of the game, Jun Senoue has been working really hard to adapt the original music that was composed in 1993 for 'Sonic Origins.'" 
Advertisement
For those unaware, "Sonic 3 & Knuckles" has a bit of a reputation when it comes to its soundtrack. Allegedly, the original game's music was partly worked on by none other than Michael Jackson (via The Huffington Post). True or not, he went uncredited in the game's release and Sega has never confirmed Jackson's involvement.
It's unclear just what the "Sonic Origins" soundtrack will sound like, but additional comments from Chrzanowski regarding composer Senuoue sound very promising. "He's been going so far as reproducing it with the same sound chip from the Sega Genesis, and using his own digital audio tape collection to make this as faithful to the originals as possible." While it may sound slightly different, hearing about the passion being put into "Sonic Origins" is reassuring.
Advertisement