Valkyrae's Stalker Troubles Got Even Worse
Internet live streaming has become increasingly popular in the past years, and similar to Hollywood celebrities, fans often want to know more about the person behind the camera. While some streamers are happy to share details about the more intimate aspects of their life, others like to stay private for a few reasons. The primary reason for this is that it could potentially allow viewers to interact with streamers in the real world in a harmful way. Unfortunately, streamers like xQc have found this out the hard way after being swatted multiple times.
Advertisement
The most watched-female YouTube streamer and Co-Owner of 100 Thieves, Valkyrae is another streamer that knows the dangers of life in the public eye. Valkyrae previously dealt with an internet stalker that made her so uncomfortable that she opted to deactivate her Twitter account entirely. Unfortunately, according to a recent interview, this wasn't the only time a stalker had approached her, and this newly revealed interaction could have easily ended in disaster for everyone involved.
A fan flew into California in hopes of meeting her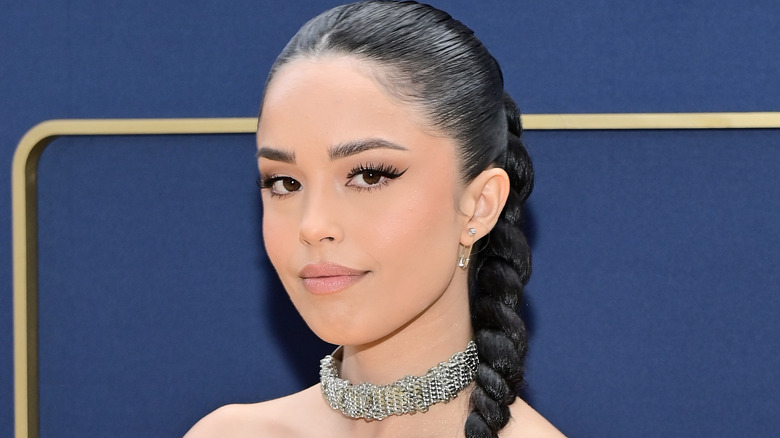 Stefanie Keenan/Getty Images
During a July 13 interview with YouTuber Anthony Padilla, Valkyrae was asked about her most bizarre fan interaction. Valkyrae responded instantly, and stated that an unnamed mega fan recently flew out of state to visit Valkyrae at the 100 Thieves compound. Fortunately for Valkyrae, she wasn't on-site at the time. But Valkyrae revealed that those at the compound "warned me that this guy was looking for me, and they called the cops." Whether this was the same stalker from her Twitter posts is uncertain.
Advertisement
According to Valkyrae, things only got worse from that point on. After Valkyrae refused to meet, the stalker allegedly stayed at the airport for several days before leaving. The stalker then made recordings of himself explaining that he wouldn't leave until Valkyrae came and picked him up, in addition to stating, "If she goes to Coachella without me, I'm going to be really, really sad.'"
What makes all of this even more troubling is that Valkyrae made it clear that she had never met this person before in her life. She stated that it was most likely a troubled fan with serious mental issues that needed attention. Valkyrae also used the experience to reflect on the relationships viewers have with streamers, saying, "anyone can watch you and build this sort of parasocial mindset with any streamer or content creator they watch, and it's dangerous." And as internet live streaming continues to rise in popularity, so will the number of obsessed fans that will stop at nothing to meet their heroes.
Advertisement