Marvel's Midnight Suns Fans Just Got More Bad News
2k Games
While many fans have been divided on "Marvel's Midnight Suns" due to the game's card-based combat system, many others have been eagerly awaiting the upcoming release, which sees Marvel's heroes facing a supernatural threat like no other. The roster of playable characters is set to include fan-favorites such as Spider-Man, Iron Man and Captain America, while also featuring some lesser-known characters such as Nico Minoru, Chthon, and Lilith. Unfortunately, there have been a few roadblocks between fans and the game.
The game was announced back in August 2021 with an release window of March 2022, but Firaxis Games announced that it would not be able to meet its initial deadline just three months later. At the time, the team chose not to give another specific date, stating that it would be coming out some time in the second half of 2022. The developer later announced October 7 as the big day with another impressive trailer. Now, just three months before the newly chosen date, yet another delay has been revealed.
Why Marvel's Midnight Suns has been delayed again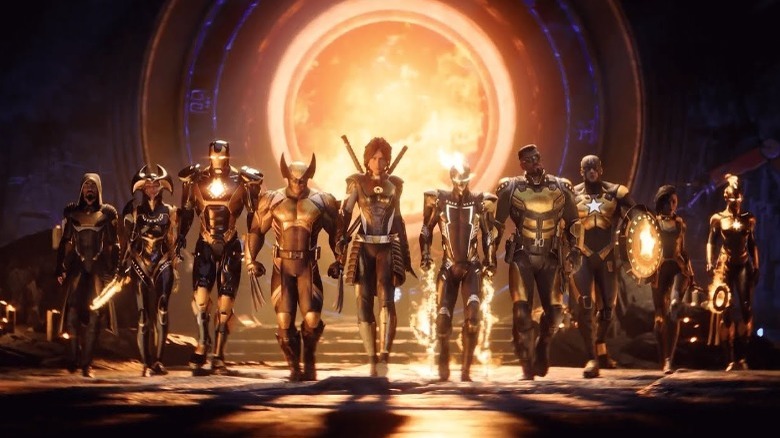 2k Games
The official "Marvel's Midnight Suns" Twitter page posted a update on the afternoon of August 8 to let fans know that the game would not be ready on schedule. "After discussion with the team, we've made the decision to move back the launch timing of "Marvel's Midnight Suns" to ensure we are delivering the best possible experience for our fans," the post states. "We will launch later this fiscal year on Windows PC, Xbox Series X/S, and PlayStation 5, with the Xbox One, PlayStation 4, and Nintendo Switch Versions following at a later date." The post went on to say that the team will use this extra time to make sure that the game is released in the best condition possible, claiming that it is the biggest project Firaxis has ever worked on. The post also thanked the project's fans for their patience and support.
While it seems that this delay will only be a few extra months at the most for PC, PS5 and Xbox Series X/S players — with March 2023 being the latest possible release date, according to this announcement — it's unclear exactly how long the developers intend to stagger the Switch and older-gen versions.