Microsoft Clears The Air On Elden Ring Game Pass Listing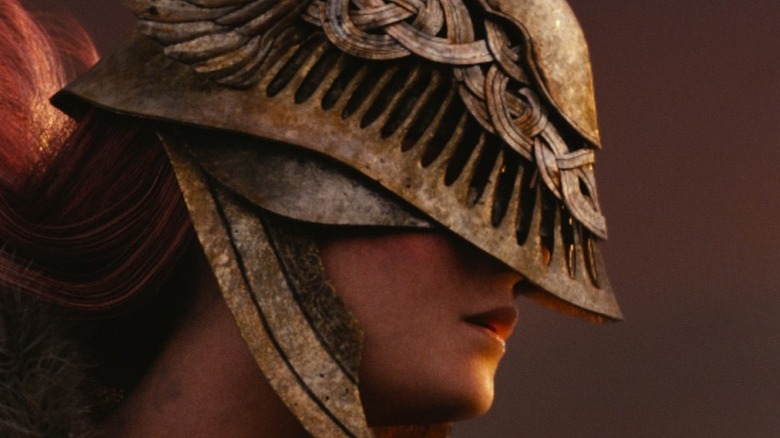 Bandai Namco Entertainment
The launch of "Elden Ring" was monumental, pulling in a concurrent player count that exceeded all of the "Dark Souls" games combined. And players weren't quick to drop the game, either. Gamers are still finding new things in "Elden Ring" almost six months after its release, including a lost colosseum and the secret places where bosses go to hide.
But there are still some gamers out there who haven't trekked through the Lands Between just yet. For those players, recent information seemingly hinted at "Elden Ring" removing some of its buy-in and becoming available on-the-go in the near future, making it more accessible than ever. These rumors developed after gamers spotted an Xbox Cloud Gaming listing for "Elden Ring" that made many believe the game was on its way to the service. The Xbox Cloud Gaming service allows players to play select Xbox Game Pass titles on any device via streaming. Unfortunately for excited fans, a Microsoft spokesperson has since come clean about the listing, and it isn't what "Elden Ring" fans wanted to hear.
Microsoft claims the Elden Ring listing was due to a bug
The Verge's Tom Warren, tweeted that they were able to speak to a Microsoft spokesperson about the listing. Warren wrote that Microsoft confirmed the listing occurred due to a bug and that a fix was rolled out to remove it from the Xbox site. However, not everyone has been convinced that this situation was a simple slip-up. Some fan still believe that Game Pass goofed by prematurely listing the title, and that the game will be added soon.
Some onlookers on social media theorized Microsoft added "Elden Ring" to the site in preparation for an upcoming Gamescom announcement, and that the addition of "Elden Ring" was part of a new initiative by Microsoft to get non-Game Pass titles available on the Cloud.
"Elden Ring" wasn't the only game found to pop up on the site, as users reported seeing listings for "Red Dead Redemption 2 and "Soul Hacker 2" as well. Both of those titles, like "Elden Ring," have since been delisted on the site, suggesting that maybe this was all just the result of an unnamed glitch. It's hard to say what the future of Xbox Cloud Gaming holds, especially in light of Microsoft's allegations that Sony has paid developers to stay away from the Game Pass. But who knows, maybe "Elden Ring" will be playable on a smartphone before the end of the year.