MrBeast Reveals He Needs Major Help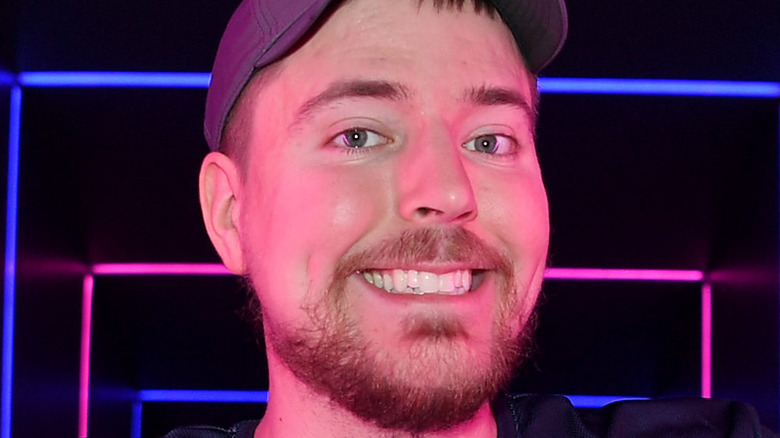 Denise Truscello/Getty Images
Some might assume that becoming a content creator is a dream job. However, it's not all glitz and glamour and can quickly become a demanding career, catering to an ever-growing number of fans with varying expectations. Not only are content creators typically expected to churn out regular content, but fans (and potentially paying customers) often anticipate that content to be at least of the same quality as what preceded it — if not reaching an even greater production value. This seems to be the issue that famed YouTuber MrBeast has run into recently.
For the uninitiated, MrBeast — real name Jimmy Donaldson — is well known across the internet for his outlandish and entertaining videos typically based around fun challenges. The 24-year-old YouTuber has pulled off some feats during his time on the video hosting platform, such as faithfully recreating "Squid Game" or convincing strangers to leave work for a shot at cash. It's a successful formula that has netted MrBeast over 100 million subscribers on YouTube, but it comes at a cost — especially when even some of MrBeast's videos have been hidden behind scavenger hunts or even gifted to other streamers like Ludwig. These kinds of videos don't only damage one's bank account, they also require a lot of time and planning. Because of this, MrBeast recently revealed that he needs major help. 
To that end, MrBeast has made a call for all interested applicants to help make his YouTube channel even stronger. Here's what the YouTube mogul said about his growing operation.
MrBeast invites fans to apply
In a video published to his secondary YouTube channel titled "How to Work For MrBeast," the YouTuber explains that he'll need new staff members to help keep up with the scale of his videos and the time required to make them. The video is short and sweet, but delivered the message loud and clear that MrBeast is looking to expand his team. It also offered some tantalizing hints about the direction his mega-popular channel may be heading.
 "The videos I'm doing have gotten infinitely harder," MrBeast said in the video. "And because of that, I'm not able to upload as much as I want." According to MrBeast, he wants to create YouTube videos that will rival Hollywood productions, but he also wants to find a way to make these increasingly complex videos on a shortened timeline. To accomplish this task and meet the needs of his ongoing audience growth, MrBeast is looking for help in multiple areas of production. 
Fans of the YouTuber took the comments below this video to give him props for not slowing down and always trying to do things bigger and better than before. But what exactly is he looking for?
MrBeast's dedicated careers page nicely breaks down the focus of his channel and what he hopes to accomplish by expanding the team: "At MrBeast, we attribute much of our success to putting our four foundational pillars of viral content above everything else: IRL Comedy, Spectacles, General Good, and Philanthropy." Here's how to apply to be a part of MrBeast's crew.
How to apply for MrBeast's crew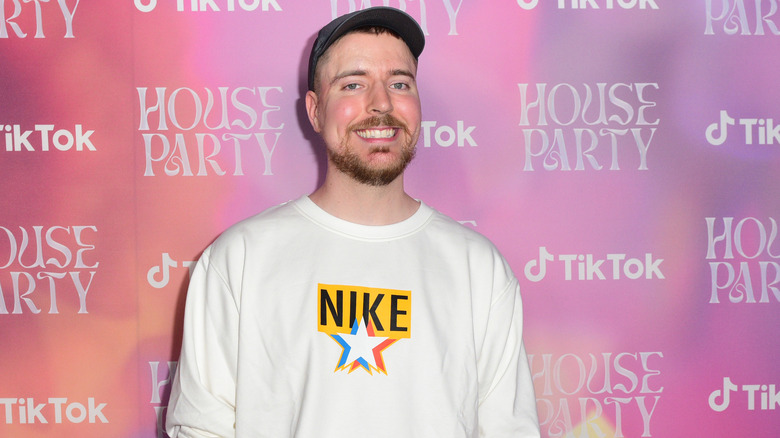 Vivien Killilea/Getty Images
According to MrBeast's careers page, the YouTuber is currently looking to fill multiple positions, with jobs available both remotely and at MrBeast's home base of South Carolina. The site explains, "we are looking for obsessive people that are smart and well versed in content creation ... that push the limits of what was once thought of as impossible." The jobs available range from being an assistant editor to directing actual pieces of content. However, the two positions MrBeast said he especially wanted to fill were Senior Producer and Lead Content Strategist — both of which are also listed directly in the announcement video's description. 
An additional "open application form" is also available for aspiring collaborators or workers who might be able to offer another service outside of the listed ones. In other words, MrBeast appears to be open to applicants with all kinds of talents. That makes sense, considering how drastically different some of his videos are from the rest. Maybe you aren't cut out for a hectic "Squid Game" tournament, but you could have a specific talent that could help MrBeast and his team with their next big giveaway.
It should be noted that not everyone has had the best working relationship with MrBeast in the past. Some of his former employees have complained about workplace conditions and haven't enjoyed working closely with the YouTuber himself, with some calling him out for being a difficult boss (per The New York Times). However, for hardcore fans who want to join this content creation empire, now might be the time to shoot their shot with MrBeast.