The Most Viral Dance Of 2022 Is Coming To Fortnite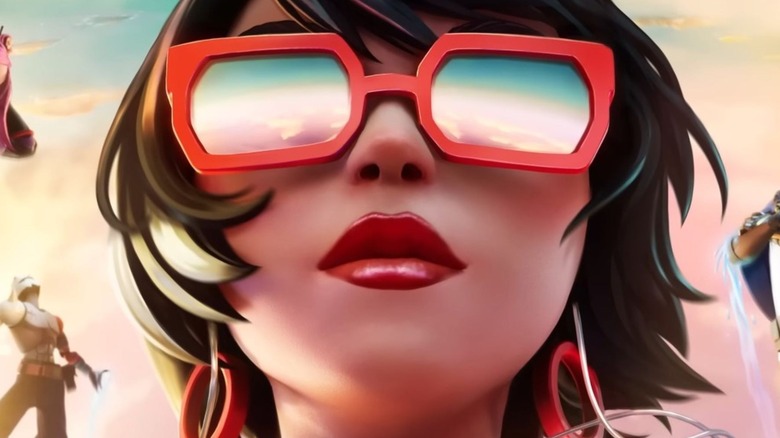 Epic Games
Since its release in 2017, "Fortnite" has gone on to become a massive hit with gamers and a cultural phenomenon. The shooter helped popularize the battle royale genre and even competitors of Epic Games acknowledge that the game has brought new fans to gaming and been good for the industry (via Markets Insider). Despite being out for half a decade, "Fortnite" is still thriving, with a devoted community of players.
Advertisement
Epic Games' has demonstrated its ability to keep the game fresh with regular updates and new content. It's also managed to tap into popular culture by bringing what's currently hot in the real world into "Fortnite." From bringing one of the biggest villains and fan favorites from the MCU into the game to adding emotes for viral dances for players to enjoy, "Fortnite" continues to tap into the cultural zeitgeist.
News recently broke that "Fortnite" is doing it again. It seems that the most viral dance of the year will be coming to the game shortly for players to enjoy. According to the Twitter account "Fortnite" News, the "Jiggle Jiggle" dance is on its way as an Icon Series emote. The dance, which gained popularity on TIkTok this year, features a series of moves that are performed to the song of the same name.
Advertisement
Jiggle Jiggle comes to Fortnite
As Los Angeles Times reports, the origins of the song go all the way back to 2000 when British documentary filmmaker Louis Theroux wrote and recorded his own rap lyrics for his series "Weird Weekends." Over two decades later, the amateur rap suddenly reemerged to massive popularity when DJ team Duke and Jones remixed Theroux's performance and uploaded it to TikTok. Since then, the song has gone viral, as these things do, with over a million TikTokers using the song in videos and performing the signature dance. Now, "Fortnite" characters will be able to get in on the fun.
Advertisement
Fans were thrilled to see "Jiggle Jiggle" making it into "Fortnite." There were more than a few responses to the Tweet about plans to get the emote as soon as possible and some have apparently been waiting for this for a while. So, "Fortnite" players shouldn't be surprised if they see a new dance suddenly taking over their matches in the near future.
With its addition to "Fortnite" the "Jiggle Jiggle" dance will join a long list of other viral hits and cultural moments that were immortalized as emotes. In a few years, when the TikTok trend has faded, the emote will likely remain with younger fans seeing it and asking what it really means.