Everyone's Favorite Marvel Villain Is Finally Coming To Fortnite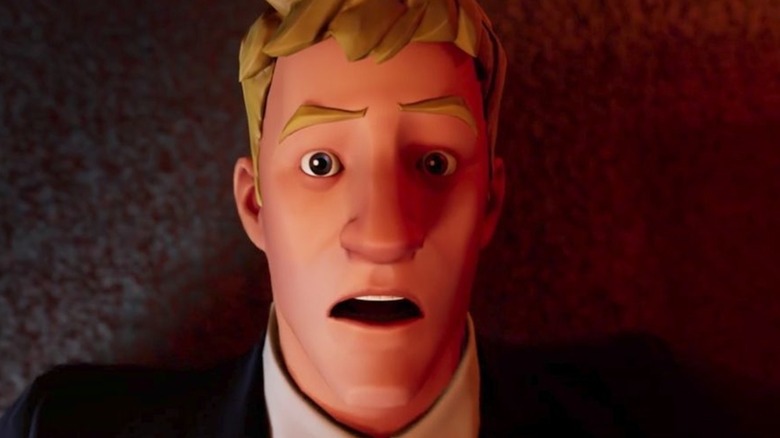 The MCU and "Fortnite" have enjoyed a lot of success together, with the popular battle royale game even hosting a crossover event that managed to sneak its way into being a part of official Marvel canon. However, while fans have gotten to play as some of their favorite heroes and villains, one glaring omission for many has been the fan-favorite trickster god known as Loki.
Thankfully, it looks like Epic Games and Marvel are finally gearing up to fill the Loki-sized hole in the "Fortnite" roster, with a tweet from the official "Fortnite" account all but confirming his arrival in July. The tweet featured what appears to be a close-up of Loki's famous horned helmet, along with a warning concerning "a trickster [who] snuck his way through the portal." 
While gamers don't know for sure when in July Loki will arrive in "Fortnite," they shouldn't have to wait too long. Here is everything "Fortnite" and MCU fans need to know about the newest villain joining the fray.
Loki has long been one of the most popular villains in the Marvel Cinematic Universe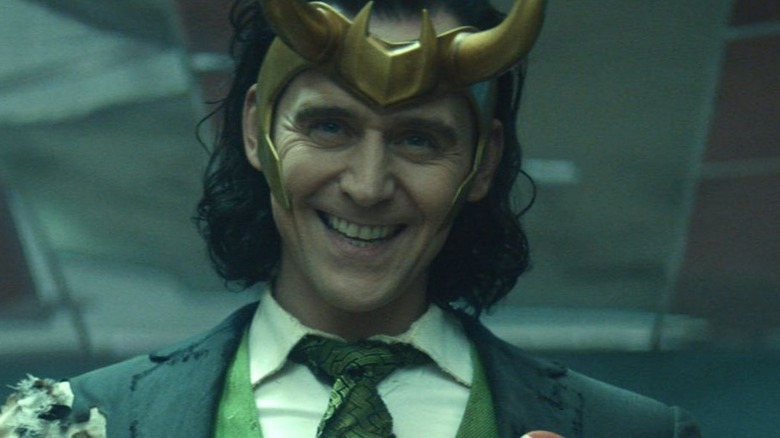 Disney+
While "Fortnite" has recently been pulling from a more diverse pool for new characters, adding everything from aliens to NBA players, a new skin based on the popular MCU villain isn't entirely surprising, especially given the popularity of his ongoing Disney+ show, "Loki."
Some fans are surprised that it took so long to see the character in "Fortnite." After all, Thanos appeared in the game during an "Avengers: Infinity War" crossover back in 2018, and while he disappeared after that, he is returning. While Thanos may be an iconic antagonist in the MCU, a recent Looper poll found that fans preferred Loki, naming him the Marvel villain they agreed with the most. In addition, having first appeared in 20011's "Thor," Loki has been around longer than any other MCU villain. 
Some were surprised that Epic Games didn't release the Loki skin closer to the June 9 premiere of the new Disney+ show. News that the morally ambiguous MCU favorite was joining "Fortnite" first leaked back in May, when Hypex posted a leaked loading screen that featured a silhouette of a very recognizable horned figure.
So when can gamers drop into "Fortnite" as the trickster god? No official date has been given, but it seems likely that the skin will appear in the monthly Fortnite Crew pack. Considering that those are typically released a couple of days before the start of the month, Loki could arrive as soon as next week. Cross your fingers and guard your Infinity Stones.