Does FIFA 23 Allow Cross-Play?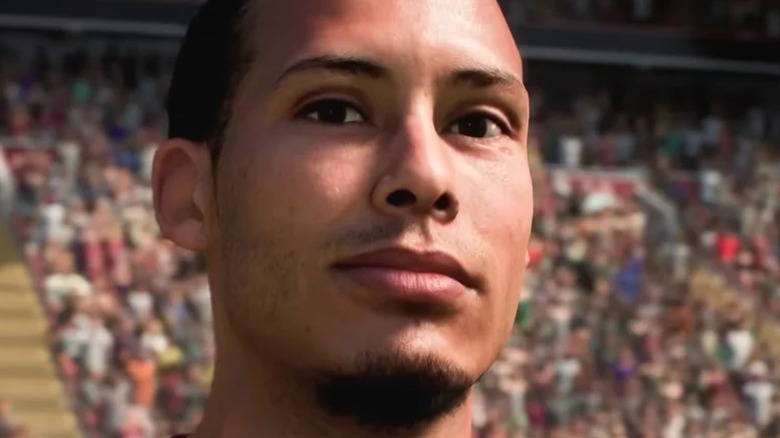 EA
After a major contract dispute between EA and FIFA — during which FIFA allegedly demanded $1 billion from the sports gaming giant — it seems that "FIFA 23" will be the last game in the series' current form before the long-running franchise rebrands to start anew. Slated for release on September 26, the game will be available for every major platform, including the Google Stadia and Nintendo Switch as well as the previous generation consoles. With such an extensive list of platforms, prospective players might be glad to hear that EA is, indeed, implementing cross-platform multiplayer, using what the company learned from the May 2022 "FIFA 22" cross-play test.
However, according to EA, this won't be as simple as plugging in and sending your cross-platform friend an invite. There are multiple restrictions to certain modes of play and limits on cross-generation functionalities. Here's a full rundown on the specifics of how cross-play will work in "FIFA 23."
FIFA Ultimate Team modes and other online multiplayer options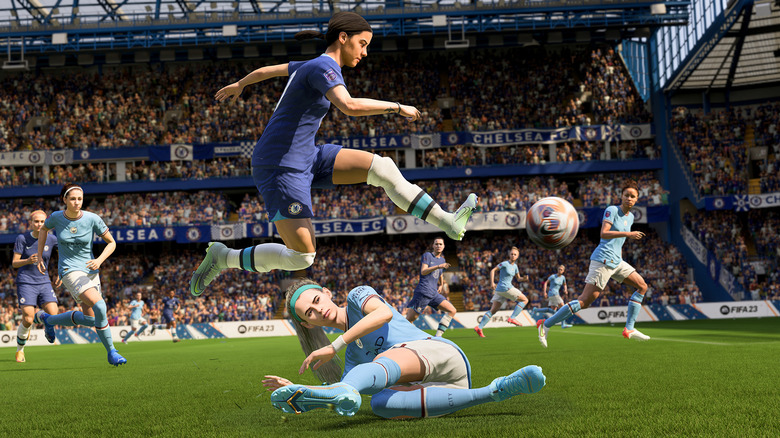 EA Sports
According to the official EA page, cross-play will be available to all players on day one and enabled by default — you can opt out through the pop-up upon first launching the game, or through the online settings menu available through many of the multiplayer mode screens.
When it comes to actual online matches, cross-play will be limited to specific console generation. PlayStation 4 players will only be able to cross-match with Xbox One players, while those on the PS5, Series X|S, Stadia, and PC will be able to freely match with one another. However, it seems the Nintendo Switch is excluded entirely from the cross-platform setup due to the limitations of the Legacy Edition release — giving Nintendo fans even more reasons to be furious with "FIFA 23."
The game modes planned for crossplay functionality upon release are Online Friendlies, Online Seasons, FIFA Ultimate Team (FUT) Division Rivals, FUT Play a Friend, FUT Online Friendlies, FUT Champions, and FUT Ultimate Draft. There is one other major restriction that applies across the board: all forms of co-op multiplayer are not allowed to be played with someone from another platform. The official EA page cites a lack of polish as a reason and directs players to stay tuned into the EA FIFA Direct twitter account for any updates.
Additional crossplay features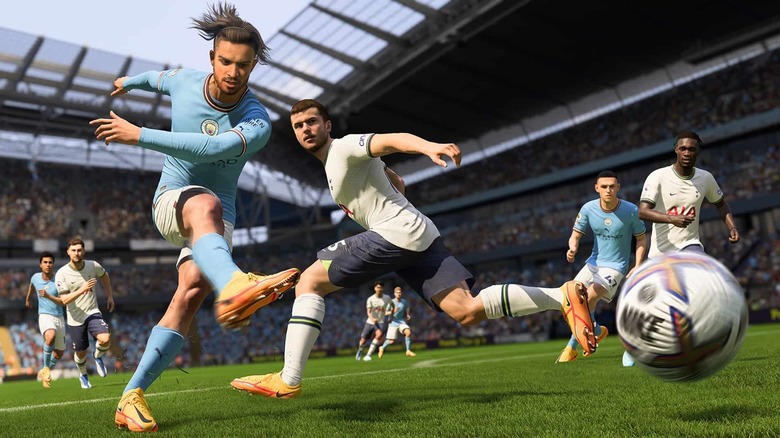 EA Sports
According to EA, the FUT transfer market, where players can buy and sell items of varying rarity and price, will be expanded to encompass all players from any platform, regardless of generation — with, however, the exception of PC and Switch players from the shared global market pool. Furthermore, PC and Switch players won't be able to trade with each other, either. Instead, EA will apparently be separating them into their own individual player markets.
Switch users are also entirely excluded from Global Leaderboards. The FUT Division Rivals and Club Value leaderboards will now list the scores of all players who have opted into cross-play from the PS4, PS5, XB1, Series X|S, Stadia, and PC platforms. Players will still be able to toggle between the global leaderboards and the local in-platform leaderboards, but those who have opted out of cross-play will only have access to the local leaderboards.
To manage these cross-play features, EA has also implemented "EA Social," an in-game widget players can use to keep track of friends, send invites, and so on and so forth. Players can, of course, disable notifications from this widget to avoid excess pings. However, it's important to note that although players will still receive invite notifications from their console for in-platform games, cross-platform messages and prompts can only be sent and received through "EA Social."