The Top Trending YouTube Video Of 2022 Is Beyond Heartbreaking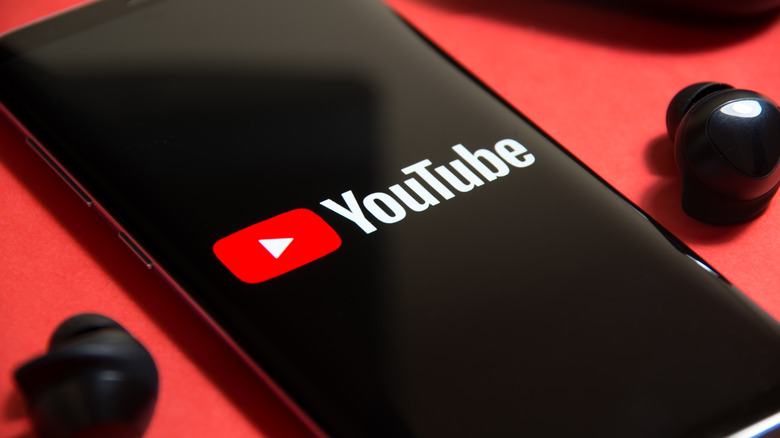 Chubo - my masterpiece/Shutterstock
As 2022 draws to a close, it's time to reflect on the highs and lows of the year. YouTube is perhaps notorious for looking back at the biggest videos of the year, mainly through its Rewind videos. Each year until 2020 YouTube would produce a star-studded video full of its biggest creators. While high-profile gamers like Ninja were sometimes featured, YouTube stopped creating official rewind videos before YouTube Gaming really took off with streamers. Thankfully, YouTube still honored one of the most heartbreaking, but important, videos to emerge in 2022 with a different sort of feature.
Advertisement
In 2022, YouTube still didn't create a Rewind video, leaving that tradition in the past. It did, however, post a blog that took a trip back through the eventful year. The post looked at the top trending videos and creators of the year, focusing on videos that garnered the most views in several categories, like music and the new YouTube Shorts format. There was also a section to honor creators who amassed huge followings during the year – like MrBeast, who rocketed past the competition to the number one spot. Gaming even made it into the music category, with Imagine Dragons' song for Netflix's "Arcane" sliding into the top ten. Even though gamers might have thought the group was one of the worst parts of the 2021 Game Awards, nothing could stop them from getting endlessly played on YouTube.
Advertisement
The most streamed video was something altogether different from the rest of the content featured on YouTube's reflection blog, though. Instead of sharing a funny moment, it remembered one of gaming's most positive forces.
Fans remember Technoblade
"Minecraft" content creator Technoblade's "so long nerds" video was the top trending video of the year, according to YouTube. Many gamers will remember Technoblade's heartbreaking death earlier in 2022, which came after a lengthy battle with cancer. After his passing, his father helped create and release a video explaining his death to fans by reading a message from the creator. The letter thanked fans for supporting Technoblade throughout the years, for buying merch that would help put his siblings through college, and for making his last years some of his happiest. Technoblade's father elaborated on the letter after reading it, explaining that Technoblade felt hesitant to write a final video because it might not be exactly what he wanted it to be. His father then told him that if he truly wanted to say something, now was the time to put those thoughts to paper, so to speak.
Advertisement
While Technoblade might not have been able to convey everything he wanted, fans were thankful for the tribute to one of their favorite creators. The video currently has over 8.5 million likes, and went viral when it first released on June 30, 2022.
The gaming community quickly began work to pay tribute to Technoblade. "Minecraft" revealed a heartfelt tribute that changed the game's launch screen to include Technoblade's signature crowned pig avatar. YouTube also showed its support and condolences with a video of its own, which helped raise thousands of dollars for cancer research. Technoblade's father also teamed up with Dream to raise even more money to fight cancer by researching new treatments. Technoblade's legacy tops YouTube's list of trending videos, but it wasn't the only content featured by the platform.
Advertisement
YouTube focused on personal moments
A few other big gaming moments appeared on YouTube's trending list, including Dream's face reveal. After years of hiding his identity, Dream finally blew the internet away by showing his face online. YouTube offered a little commentary on its top trending videos, explaining that the videos featured focus on personal identity. "This year's top trending videos show that individual, online communities are more influential than ever before," the post read. "Take the large presence of videos featuring personal stories, which allowed creators to intimately connect with and recognize their fans."
Advertisement
Whether Technoblade's father was delivering a final message or Dream was showing his face for the first time, creators were attempting to connect directly with fans in a way that might not have appeared in the YouTube Rewind videos of the past. Other moments – like the Try Guys describing the future of their channel after wiping their hands of former member Ned Fulmer – similarly focused on quieter, more intimate moments that reflected the seriousness of the year.
It's unclear what 2023 holds for gamers on YouTube, but as 2022 ends fans are looking back at the loss of one of their favorite creators and reflecting on his impact. As one fan commented, "It's almost half a year without him. Thanks for the laughs and memories and so much more. So long Blade, you're gone but not forgotten."
Advertisement