Nintendo Finally Apologizes To Switch Owners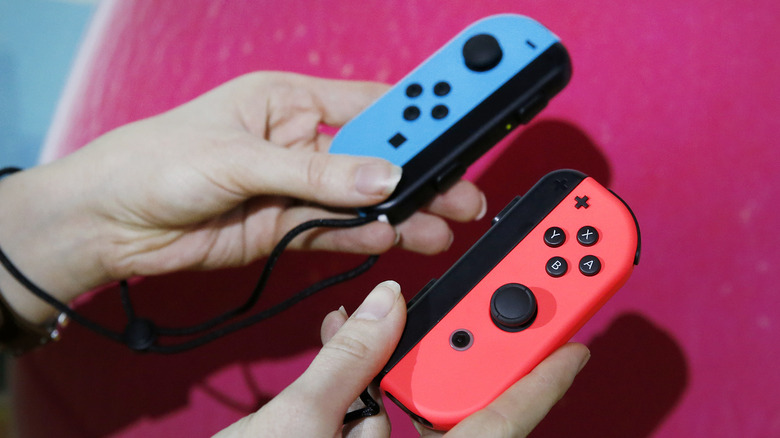 Chesnot/Getty Images
The Nintendo Switch has been a hit. Its innovative design and a string of fantastic games have given Nintendo a much-needed victory after the Wii U flopped. However, the news hasn't all been good. Ever since its 2017 release, Switch owners have been plagued by Joy-Con drift, a hardware issue that causes the Switch to register incorrect joystick inputs.
Advertisement
Joy-Con drift has been a sore subject for Switch customers, driving some to join a class-action lawsuit against the company. Now, after years of trying to address the problem quietly, Nintendo has finally offered a mea culpa.
Nintendo president Shuntaro Furukawa formally apologized for the issue during a recent Q&A session, the first such statement in the three years since the system launched. The transcript of the session is in Japanese, but Kotaku quotes Mr. Furukawa as saying, "Regarding the Joy-Con, we apologize for any trouble caused to our customers." He promised that Nintendo would continue working to improve its products, but couldn't provide details about the company's plans because of the aforementioned lawsuit in the U.S.
Advertisement
From a consumer standpoint, it must be good to see the president of Nintendo personally apologizing and taking accountability for one of the Switch's biggest ongoing problems. While Nintendo can't share any specifics until the class-action lawsuit is over, Mr. Furukawa's promise that the company will continue improving its products offers some hope that future models of the Joy-Con and Switch Lite will solve this problem. For now, though, Switch users will have to keep dealing with drifting controls.
Hopefully Nintendo gets to work on building a sturdier Switch soon.
The Switch's hardware issues are so bad that it had the dubious honor of "winning" the Most Fragile award from the French magazine 60 millions de consommateurs. In addition to the infamous Joy-Con drift, Switch owners have reported a number of other issues, including warping and scratching while docked. Some units have also stopped working altogether after being hooked up to a non-Nintendo charger.
Even the newer Switch Lite, released in 2019, suffers from Joy-Con drift. Many had hoped the problem would be fixed by the time it came out, but that wasn't the case. In fact, the problem was even worse for Switch Lite owners, as the controllers are built straight into the console and can't be taken off or replaced.
Advertisement
Nintendo stance up to this point has been that customers experiencing Joy-Con drift should contact support and send the defective items in for free repairs. That still appears to be the preferred course of action for the time being.
We'll continue following the Joy-Con drift issue and its associated lawsuit. If and when Nintendo makes any further statements regarding Joy-Con drift or its plans to fix it, we'll be sure to let you know.