Alinity Makes An Emotional Promise After Ninja Beef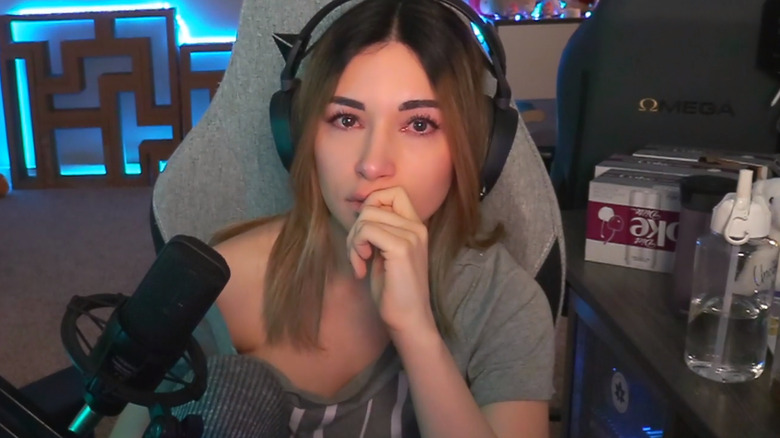 In a move that should please fans of both streamers, Alinity and Ninja have made up following a public argument on Twitter. What's more, Alinity has made a promise to her fans to "be better" in the future. 
Advertisement
If you're feeling a bit out of the loop, here's what happened: last week, Alinity and Ninja got into a beef on Twitter following a few jokes made at one another's expense. Following xQc's insinuation that streamers are paid to participate in charity streams, Ninja and his wife Jessica Blevins disputed this claim. Then, esports journalist Rod Breslau made a joke about Ninja and xQc battling it out in a charity stream. 
Alinity responded to this with a quip about how Ninja's team would lose. In return, Ninja referenced a previous scandal in which Alinity was accused of animal abuse. This led to a further back and forth between the two, during which Alinity called Ninja "the most toxic person in gaming."
Advertisement
It was certainly a memorable argument, but it served as the tipping point for something else entirely. In fact, it looks as though this blow-up might have helped some of the people involved with the argument to make some changes.
Following this big Twitter feud, it appears as though all parties have taken an opportunity to step back and reflect on the argument. In an emotional broadcast to Twitch, Alinity told her fans that the criticism she receives on a daily basis has started to weigh heavily on her. Showing a much more vulnerable side than usual, Alinity spoke a bit about the recent loss of famed World of Warcraft streamer Byron "Reckful" Bernstein. She furthermore explained that she has struggled with depression and has considered taking her own life due to the harassment she's received online.
In the broadcast, she explained to her viewers why she was being so open about all of this. She said, "The s—t you guys say really affects people, okay? ... I just want you to guys to know that this is really serious. You guys can't just, like, send hoards of hate towards somebody without it having an effect on a person."
The response to this broadcast was almost immediate. In fact, some people that have previously argued openly with Alinity reached out with their apologies.
Advertisement
In a heartwarming and encouraging turn of events, everyone involved has apologized for their words and deleted the original tweets. The big kumbaya moment on Twitter began when Rod Breslau apologized to Alinity for seemingly kicking things off. Breslau explained that he deleted his original tweet because he felt that it "contributes to a culture of online bullying and toxicity."
Ninja echoed this sentiment, saying that he spoke from a place of anger. According to Ninja, "I kept looking back at the tweet and saying I wouldn't have sent that if I wasn't a little tilted. I apologize as well @AlinityTwitch."
The reconciliation was capped off by a tweet from Alinity wherein she apologized for calling Ninja "toxic." All in all, it seems like everyone involved in this little dust-up realized that they were under a tremendous amount of stress and spoke out of turn. It's kind of great to see things work out like this, particularly considering how some internet feuds — like Ninja vs. Tfue — can seemingly drag on forever. 
Alinity also took to Twitter to thank everyone for their kind responses following all of the social media drama. She wrote, "The amount of support is incredible, it's impossible to thank everyone so I hope saying it here is good enough. Thank you. I will be better. But this is all so much bigger than me. Please listen to each other. And remember those voices that can no longer speak. Love."
Advertisement
Both Ninja and Alinity have seen their fair share of controversies, as well as more than a few feuds, but it's obvious that the two streamers are trying to move forward. This will prove to be especially crucial for Ninja, since it's unclear what the future may hold for the streaming superstar. Following the closure of Microsoft's Mixer platform, Ninja has yet to announce what his next steps will be. 
It's clear that tensions have been running high for streamers in general and that Alinity has been dealing with this kind of negativity for quite some time. Things seemingly reached a boiling point with last week's Twitter feud. Hopefully this is the start of a step in a more positive direction for both streamers and their followers.