The One Place Xbox Is Outselling The PS5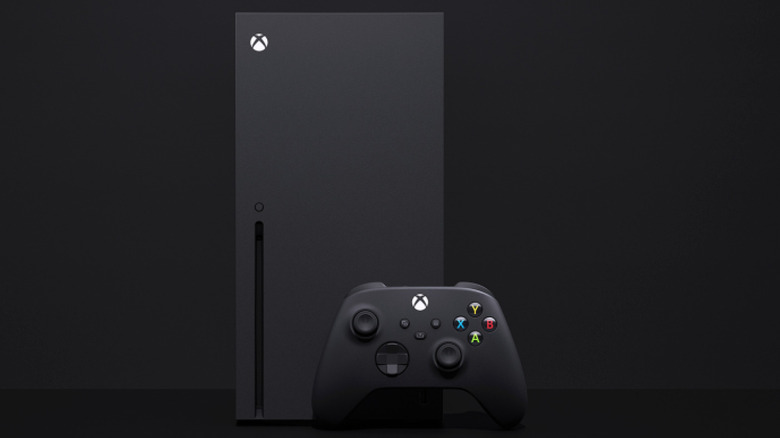 It's no secret by now that the PlayStation 5 is currently the next-gen winner in the newest console war. After all, an overwhelming number of people wanted a PS5 over an Xbox during the holidays. What's surprising is that the PS5 is not outpacing the Series X|S in all markets.
According to a report from GamesIndustry.biz, the latest Microsoft console was the hottest-selling system in the UK, beating out both the Nintendo Switch and the PS5. Gamers excitedly snatched up 150,000 units of the next-gen underdog in January alone. What's especially impressive is that sales are still on the rise in the region, spiking at nearly 150% last month in comparison to January 2020. The article also reports that the best-selling product is an Xbox accessory — the Carbon Black Xbox controller, which beat out the PS5's DualSense controller.
The article goes on to specify that both systems "are severely supply constrained, and their sales performance is largely decided by how many units are released at retail during any given period." It also mentions that the PS5 was mostly unavailable for a good chunk of the month. With that said, would it be premature for Xbox fans to rejoice?
It was recently reported that the race between Xbox and PS5 may be closer than anyone thought. Sony's lead over Xbox is far more narrow than it has been in previous generations, which is definitely encouraging for Microsoft enthusiasts, even if it's still quite inconclusive.
Both the next-gen Xbox launch and PlayStation 5 launch made history. Although the two systems have been in high demand from the start, both also had problems at launch. Naturally, the biggest issue for the Series X|S and the PS5 (at least where consumers are concerned) has been a shortage of supply. In fact, Xbox was actually falling behind PS5 on production at one point, but was able to get things rolling after the system launched.
Is it possible that as this generation matures and console availability becomes more plentiful, Microsoft could, in a surprise move, overtake Sony in this generation's console war? Perhaps the UK might offer a snapshot of what may happen in other markets down the road, but it's still far too early to tell.Those who are watching the numbers will have to keep their eyes on sales figures for a while to see if the newest Xbox will ultimately come out on top.