You Can Now Play As This Legendary Video Game Heroine In Fortnite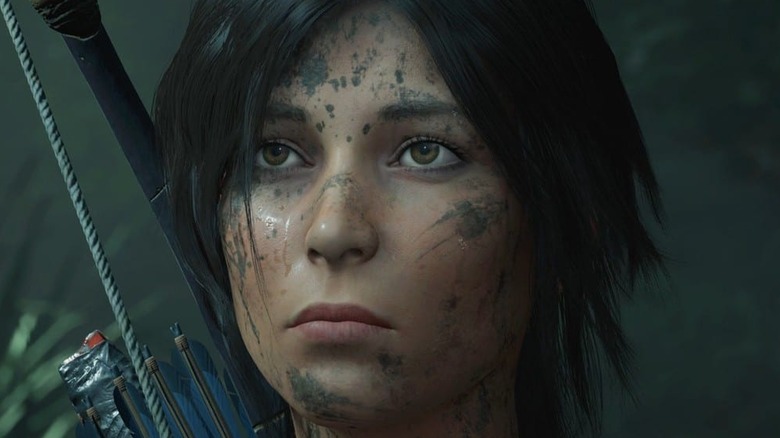 After weeks of anticipation, Fortnite's new season has arrived. Chapter 2 – Season 6 marks the end of the Zero Point storyline that defined Season 5 and the beginning of the "Primal" theme, with new survival elements on the map, new NPC animals, and new heroes — including the legendary survival video game heroine herself, Tomb Raider's Lara Croft.
Lara Croft joins Fortnite's expansive ranks of licensed tie-in characters as a part of the official Season 6 Battle Pass with four variants. Players will first unlock her basic appearances inspired by the prequel trilogy at rank 15 while playing through the Battle Pass. Fortnite players and Tomb Raider fans can also unlock two more looks for the character: a "25th Anniversary" variant that sports her teal tank top from the original games, as well as a "Classic" Design that gives Lara an even more "retro" look.
Lara Croft, who debuted in the original Tomb Raider in 1996, and should fit in nicely with the new Primal survival theme debuting in Season 6. According to Epic Games, "A primal biome spreads through the island in Fortnite: Chapter 2 - Season 6, kicking off a whole new crisis.That biome, which will introduce animals like wolves, boars, and chickens, originates from the center of the island, where a giant spire now looms over the surroundings. The season will also introduce new crafting mechanics and a single-player story event for fans to dive into.
Of course, Fortnite rarely stops at adding just one new character with any of its updates, and Lara Croft will be accompanied in the new Battle Pass by other licensed characters, as well as some Fortnite originals. Raven, a DC superhero best know for her appearances in Teen Titans, unlocks at Tier 77. Also, Fortnite teased the arrival of Brazilian soccer legend Neymar Jr. in a clip that featured the player's jersey number. His outfit will become available as the battle pass continues through the season. 
As far as Fortnite original characters go, players will receive a sharp new Agent Jones outfit upon their purchase of the Battle Pass at Tier 1. Specific to Season 6's Primal theme are Tarana, who unlocks at tier 29, and Raz, unlockable at tier 50. Next is Cluck, a human-sized baby chicken (apparently still wearing pieces of its shell), which unlocks at tier 61. Rounding out the list is the Spire Assassin, likely associated with the giant spire that recently appeared in the center of the Fortnite island. To unlock the Spire Assassin, players will need to reach tier 100 of Season 6's battle pass.