How Xbox's New Feature Is Saving You Tons Of Time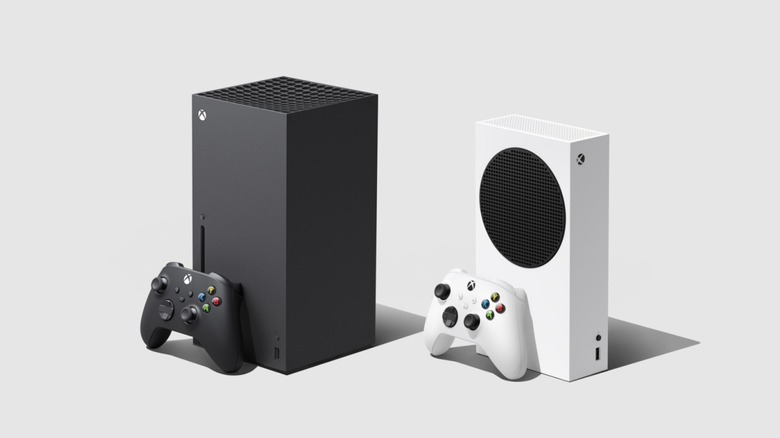 As the life cycle of the Xbox Series X|S marches onward, it seems that new and improved features are an inevitability — particularly when considering how the Xbox brand has transformed over the years. Already, the console's FPS Boost feature has been applied to multiple past-gen games, including Far Cry 4 and Watch Dogs 2, improving their performance. Further, the Xbox Series X|S now has an updated download performance feature, called "Suspend my game," allowing gamers to download games quickly, all without having to close any in-progress games.
This Xbox Series X|S and Xbox One update involves the usual process of installing new games. However, owners of the listed consoles can suspend the game they are currently playing at any moment to allow for downloading the new game at full speed.
On the update, Xbox engineering lead Eden Marie tweeted, "Suspend in the queue will let you download at full speed while making sure your game remains resumable (or quick resume-able on Series X|S). New banners in the Full Library will take you to more useful categories!" The latter comment refers to the existing banner feature, which takes you to other pages on the Xbox dashboard. Meanwhile, the former indicates that suspended games can be resumed at any time.
Members of the Xbox Insider program are currently the only ones with access to the update, leaving non-Insiders out of the know. However, once tested, those outside of the Insider program will likely get to experience the feature as it was intended. If the comments below Eden Marie's announcement are any indicator, fans are greatly enjoying the new game-suspending function.
Xbox gamers have now experienced multiple console updates since the launch of the Series X|S. In addition to the "Suspend my game" and FPS Boost updates, the Xbox Assist function has also been modified to lessen gamers' frustration. Previously, gamers eager to quit a game upon pressing RT at the dashboard would instead accidentally launch Xbox Assist. The feature has since been amended so gamers can quit a game as they normally would, without Xbox Assist launching instead.
As for what the rest of 2021 entails, Xbox director of program management Jason Ronald teased that there are still some exciting 2021 game releases yet to be announced, and this could very well include yet-to-be-announced Bethesda games. In what was likely a disappointment for PlayStation 5 owners, Xbox head Phil Spencer announced there will be some Bethesda titles that will be exclusive to Xbox and PC only.