This Corpse Husband And T-Pain Collab Has Fans Going Wild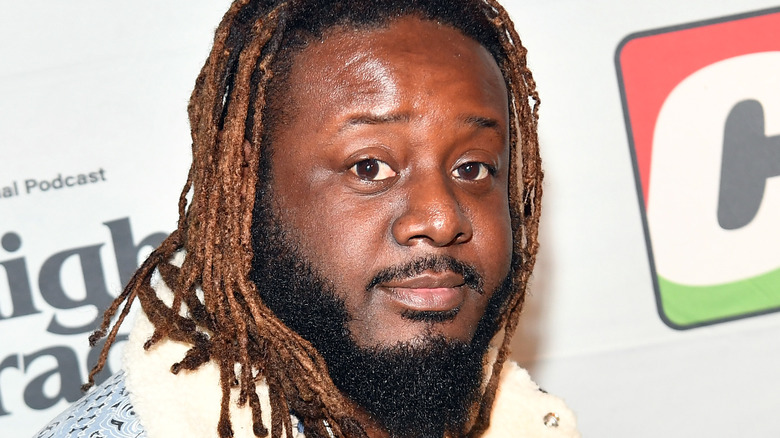 Paras Griffin/Getty Images
Some collaborations just make sense, and others might catch gamers by surprise. When Dr Disrespect and Zlaner teamed up to play "Warzone," it just seemed right. Similarly, Corpse Husband and Machine Gun Kelly's song "Daywalker!" worked well for many fans, bringing together two rappers once seen to be on the fringes of the genre. Other collaborations come as a complete shock. For example, when Pokimane and Jidion finally put their feud to rest over sandwiches, viewers expressed surprise that the two could bury the hatchet so quickly. A new surprising collaboration is now on the horizon, once again featuring Corpse Husband, the gravelly-voiced musician and streamer. The other half of the project? None other than T-Pain himself.
Maybe it shouldn't be such a surprise that the two could be teaming up on a project. After all, they're both famous in the streaming world. T-Pain streams himself playing games like "Call of Duty: Warzone" and chatting with fans. Sometimes he even gets the opportunity to shut down trolls in hilarious ways. Meanwhile, Corpse Husband is the faceless streamer with a tragic backstory who's delivered viral self-produced rap hits like "E-GIRLS ARE RUINING MY LIFE!" While the two have more in common than many might initially think, it's interesting how T-Pain and Corpse made their initial connection, and how they used this small moment to begin planning a potentially huge collaboration.
Before the fateful stream even started, some fans were thinking about the potential in the stream's lineup, which starred a variety of popular streamers, including host Mizkif. One viewer commented on an announcement for the stream, saying, "Now to get T-Pain and Corpse Husband to collab..." And little did they know, that's exactly what would soon happen.
How T-Pain and Corpse Husband met
An episode of OTK's "Schooled" – a series meant to test contestants' knowledge from kindergarten level questions on up – provided Corpse and T-Pain with an opportunity to meet and, understandably, T-Pain had to shoot his shot with the famous streamer. T-Pain interrupted the stream to get Corpse's attention, saying, "Real music s***, though? We need to make this s*** happen." Corpse replied, saying that T-Pain should DM him to get the ball rolling on the new project.
T-Pain said that he'd even be willing to make music in Corpse's usual style. "I'm down to come over to your side," he said. "Trust me, I know your side don't really f*** with my side, but I'm down to come over there." Corpse was quick to advocate for his fan community, saying, "It's love from all my people."
"The 5 foot 10 kings gotta get together!" T-Pain exclaimed. Both Corpse and T-Pain seemed eager to make things work and collaborate on a song together, giving fans hope for a future track featuring both artists. While it's unclear what sort of song the two will choose to make, T-Pains comments about coming to Corpse's "side" could indicate that the collaboration would sound more like one of Corpse's song than T-Pain's. Regardless, fans are excited for the possibility, and hope the two really can get together in the future. Here's what viewers had to say about the possibilities.
Fans are going wild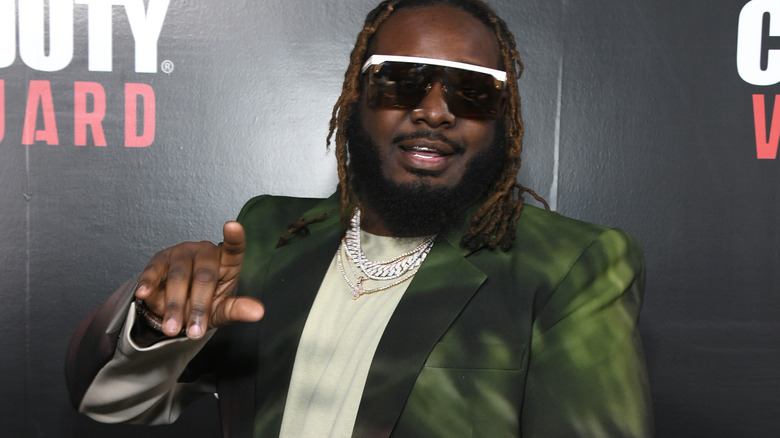 Araya Doheny/Getty Images
Viewers loved seeing Corpse Husband and T-Pain interact on "Schooled," and some even came up with a snappy name to describe the new friendship: "C-Pain." Viewers were mostly ecstatic at the possibility of the two musicians working together. One Twitter user said, "if Corpse and Tpain did a song together i might actually ascend to heaven." Others wanted to assure T-Pain that Corpse's fans have nothing but love for the rapper, and that they'd love to see him work with Corpse on whatever project they choose.
Some viewers suggested that Corpse Husband and T-Pain get to know each other by playing "Among Us" first, or trying out other streams together. Regardless of if their project comes to fruition, many gamers felt that the pair's dynamic was engaging. One fan noted that Corpse began following T-Pain after the livestream, suggesting that the two could continue talking in the future.
Others thought the mention of a collaboration was "probably a joke," but it's hard to deny that the result would be interesting. Who knows? Maybe it would even be a Mizkif dis track. To be fair to viewers, it's almost too difficult to comprehend what the duo could get up to in the recording booth. As one Twitter user said, "i can watch t-pain and corpse husband doing a quiz together live today i'm convinced nothing since 2019 has been real."
Neither Corpse Husband nor T-Pain have commented on a potential collaboration since appearing on "Schooled."