Dr Disrespect Roasts 100 Thieves' Big Game Announcement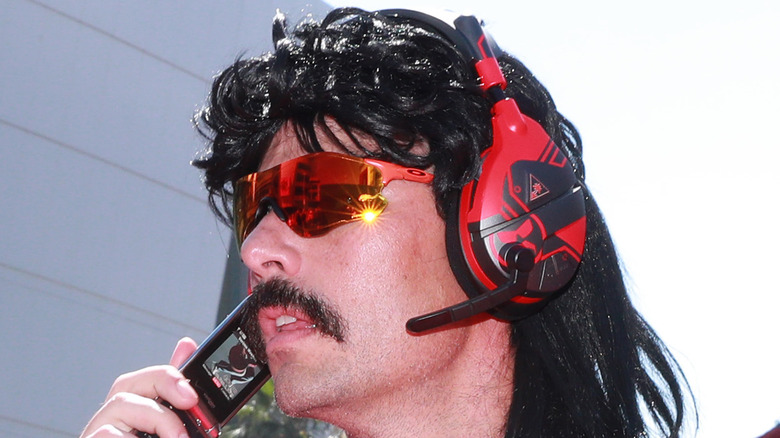 Rich Fury/Getty Images
Dr Disrespect is known for his over-the-top internet personality. He's also popular because the man under the costume, Guy Beahm, designed the Dr Disrespect character to be a villain, and often gets confrontational with his fellow content creators. This, unsurprisingly, has led to him rustling some feathers in the gaming community. For example, Dr Disrespect has famously feuded with FaZe Clan's Nickmercs about Call of Duty Warzone's controller aim assist on Twitter. He also had a few choice words about the unofficial 2022 Twitch Streamer awards hosted by QTCinderella. However, most of the insults Dr Disrespect hurls out are aimed at his friends, who he enjoys teasing, to the entertainment of his fans.
Advertisement
So when Dr Disrespect's pals Nadeshot and CouRage announced they were working on a video game at 100 Thieves titled "Project X," fans were patiently waiting to see what Dr Disrespect had to say. Mainly because the Two Time is good friends with 100 Thieves' Nadeshot and CouRage and because the Doc is also developing a game of his own. However, Doc's game, "Prokect Moon," has already received significant backlash from the community for its inclusion of NFTs. That didn't stop the Two Time from roasting "Project X," and the team behind the game, on Twitter.
Dr Disrespect has some competition
On May 19th, two days after the "Project X" announcement, Dr Disrespect broke his silence on the upcoming game. Hilariously, the Doc took the opportunity to poke fun at his friends over at 100 Thieves by tweeting, "Hey @Nadeshot and @CouRageJD, I hear you guys are building a cartoon anime golf game for the Nintendo Switch called Project X." Obviously, the Two Time was joking about the contents of the game, as aside from a nine-minute video of NadeShot expressing his enthusiasm for "Project X," no information on the game has been released just yet.
Advertisement
But CouRage had some jokes of his own up his sleeve. Shortly after the Doc sent out his Tweet, CouRage fired back with, "Listen Doc, We can't BOTH have predatory NFT games, ya know?" Aside from the hundreds of GIF reactions praising CouRage for crafting what many believe the perfect comeback, some called CouRage's reply a reasonable concern about "Midnight Society." Although CouRage will undoubtedly support his friend's game upon release, his comeback was nothing short of hilarious.Only time will tell if "Project X" and "Midnight Society" become successes. Still, with the massive organization 100 Thieves has become and the impressive talent Dr Disrespect has pulled in for his game, they both look to be in good hands.
Advertisement