The Painful Reason Why Ninja Hasn't Been Streaming
Tyler "Ninja" Blevins has had a bit of a rocky time as of late. As it turns out, even the lifestyle of a streamer can be disrupted when unexpected injuries occur. 
For those not in the know, Ninja truly exploded in popularity in 2018 (per CNN), thanks to his impressive "Fortnite" gameplay and hilarious commentary. Ninja continued to experience unprecedented growth on Twitch alongside "Fortnite" in the following years, and his newfound fame came with perks, including exciting collaborations with the "Fortnite" Icon Series and streaming sessions with major celebs like Drake.
Advertisement
However, at the peak of his popularity, Ninja unexpectedly left Twitch behind. Ninja made the controversial decision to move to Microsoft's Mixer to stream exclusively on that platform. It seemed like Ninja was destined to rule yet another streaming platform, but shortly after his arrival, Microsoft shut down Mixer, and Ninja eventually made his way back to Twitch. Though Ninja hasn't quite reached the same viewership numbers he once had, the streamer has found that it doesn't really bother him, and he seems to be enjoying his time streaming more than ever. He's even gotten back into a more regular schedule, which was a welcome change to fans who had gotten used to seeing him randomly popping in on different platforms when he was between contracts.
Advertisement
However, for more than half a week, he suddenly stopped streaming at all. This was a turn of events that was both confusing and concerning to his fans, many of whom are used to tuning in just about every day to see the blue-haired streamer take on "Fortnite Zero Build," "League of Legends," and even poker games with his own brand of enthusiasm. Thankfully for those fans, Ninja recently addressed his absence and announced that the reason for this hiatus was pretty much out of his control.
A foot injury kept Ninja out of the game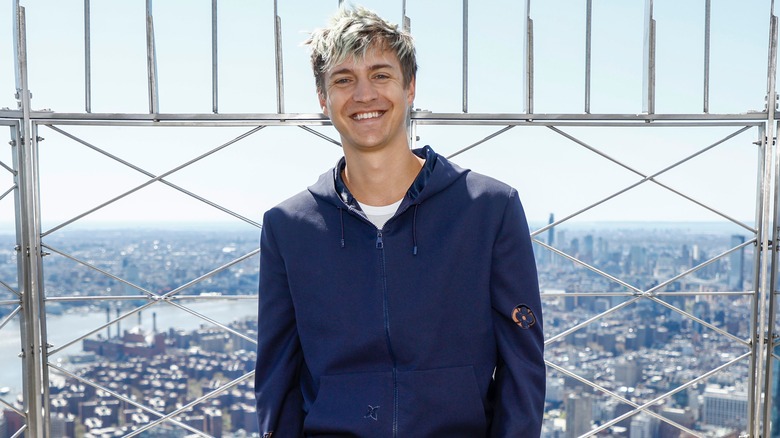 John Lamparski/Getty Images
Starting on May 27, Ninja disappeared for four days, leaving his fans without their daily dose of gameplay and commentary. As it turns out, he wasn't just taking time off to relax and enjoy his Memorial Day. Instead, Ninja Tweeted on May 31 that he was in the process of recovering from a serious foot injury. Ninja wrote," [I] Bruised my heel to the point where I can't even walk on it so I've been using crutches." The community was sympathetic to the news, with many wishing for a speedy recovery. These included some fans who could genuinely sympathize with the streamer, like Twitter user @SpappyGram, who wrote, "Broke my heel in college. Worst pain of my life I think. Feel for you."
Advertisement
Additionally, Ninja explained that he would be back to his regularly scheduled streaming after filming something later that day. What he was filming is unknown, but Ninja is something of a movie star now, especially after making a guest cameo in the popular movie "Free Guy," and he's been pretty open about having major Hollywood goals. Ninja may have been filming promos for his new and improved YouTube channel, or maybe he's finally getting his wish to be in a Marvel or DC movie. Whatever the case, he eventually logged onto his Twitch channel on June 1 to play some "Fortnite" and give his fans an update on his condition.
How did Ninja get injured?
As Ninja fired up the stream on Wednesday, he seemed a bit uncomfortable in his chair, which prompted a few questions right away about his injury in the midst of the usual donation messages. Ninja told his audience that he could not put pressure on his foot at all, and that it was causing him near-constant pain.
Advertisement
He elaborated that it was his left heel that was bothering him, in particular. "I don't wish this on anyone, bro. There's nothing I can do for it, either," he remarked. When fans pressed him for more of an explanation, he told them the embarrassing truth of how he came to hurt his foot. "I jumped off a boat into the water," he said. 
The streamer had apparently thought the water surrounding the boat was much deeper than it actually was, so he was in for a shock when his heel immediately hit the ground below the surface. Ninja ended up having to visit the hospital to get his injured heel checked out, and luckily he learned that there were no broken bones, but the bruise from his accident has not been a fun thing to deal with. He also added that his unfortunate visit to the hospital was at least pretty chill, as no one seemed to recognize him while he was there.
Advertisement
Since his injury, Ninja has been resting up and taking plenty of Tylenol. The hurt foot didn't seem to make a huge difference in his gameplay, which is more good news for the folks who tuned in. Now that his streaming schedule is returning to normal, it's safe to say that Ninja himself will soon be back at 100% in no time.