It's Time To Talk About These PS5 Pro Controller Rumors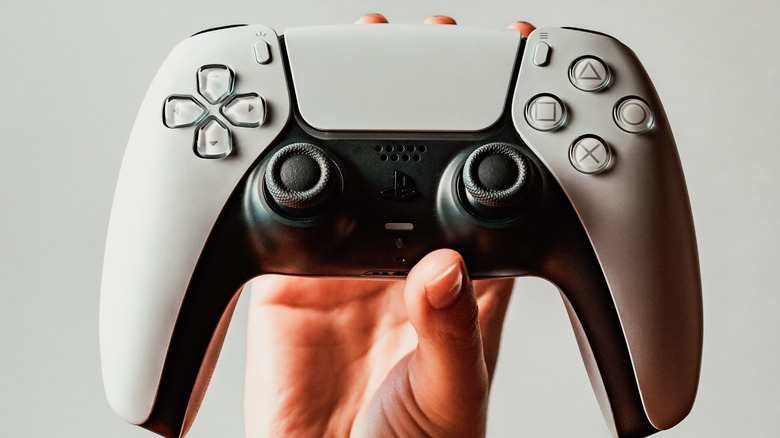 Pickaxe Media/Shutterstock
The rumors about pro versions of the PlayStation 5 are almost as old as the console itself. It seems that as soon as the system was released, fans were already yearning for something different or more powerful. In early 2022, a new job listing got fans excited about the possibility of a PS5 Pro, and another leak a few months later got the rumor mill turning. Gamers even had some suggestions for changes to make the PS5 Pro the best console available. Still, despite rumors about an updated PS5 model, nothing solid has materialized – until now.
Okay, so there's still no concrete announcement from Sony just yet, but a new set of rumors about a Pro version of the DualSense PS5 controller seem to be more real than previous reports. After all, there's good reason for Sony to invest in a DualSense redesign: Despite excellent reviews, the advanced peripherals have been plagued with issues since they were released, with stick drift being the main offender. A recent report from Tom Henderson for Try Hard Guides detailed the latest rumors, describing several exciting new features that could be coming to a "Pro" version of the PS5 controller.
According to Henderson, sources say that an announcement from Sony is on the horizon. The new version of the DualSense is allegedly code-named "Hunt," and aims to be a more professional option for gamers who need more flexibility and remappable options for games that require quick reflexes. The Pro DualSense will reportedly feature removable (and perhaps adjustable) analog sticks, as well as back paddles, much like the Reflex from Scuf or the weird (but useful) back button attachment for the PS4. In other words, the Pro controller is packed full of possibility.
What makes the Pro controller special?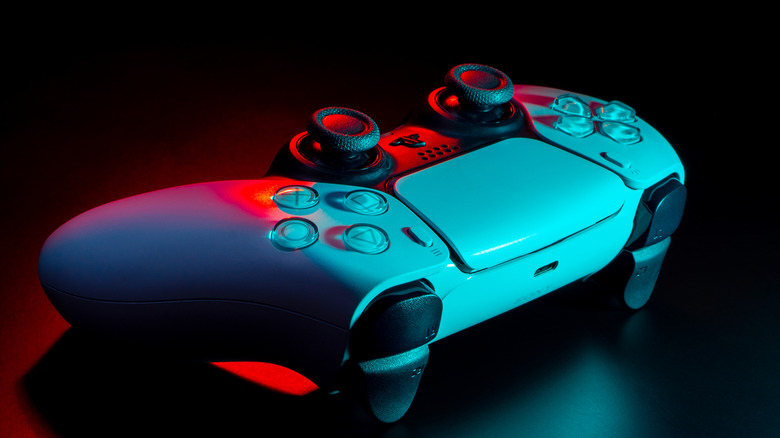 SolidMaks/Shutterstock
Henderson also claimed that the new version of the DualSense mostly looks the same, but has small details that will make it stand out from its predecessor. The "Hunt" appears to have textured material on its sides to allow players to better grip the controller, but that texture seems to be removable if the player wants a smoother experience. The controller will also have trigger stops, which decrease the amount of space players have to press in order to activate a trigger. This means that professional "Call of Duty" players could mitigate trigger latency and improve their overall play by making their movements quicker and more efficient.
The most exciting aspect of the new Pro DualSense is the idea that its parts could be easily replaced and customized, which would eliminate the need to purchase a newer, more expensive controller each time something went wrong with an older one. Being able to replace drifting analog sticks could save players a hefty amount of cash if they encounter stick drift, while replaceable textures would mean that players always had a sturdy grip if they so desire. Henderson clarified in a tweet that avoiding stick drift was a major part of the appeal of the new PS5 Pro controller, and suggested that other parts may be replaceable as well. These swappable parts would be simple to install, with the entire unit popping out of the controller, perhaps without the need for small screwdrivers or specialized hardware, Henderson tweeted. 
With all these exciting features, when can gamers expect to (literally) get their hands on this beautiful controller?
Fans aren't sure what to think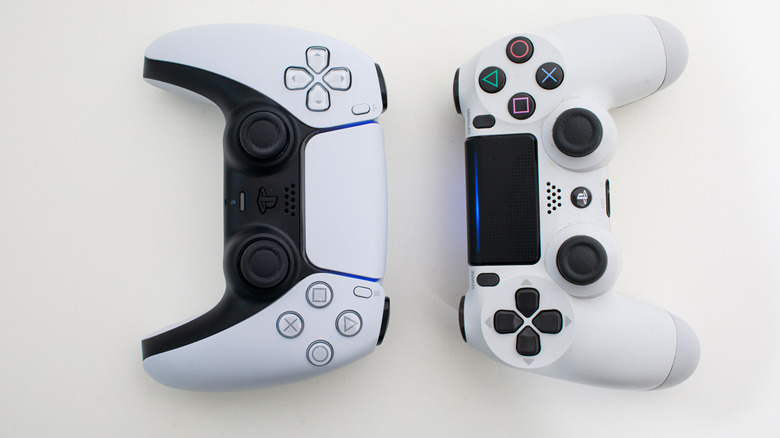 Girts Ragelis/Shutterstock
Sadly, there's no announcement date for the Pro DualSense just yet, and everything Henderson discussed remains rumored. Henderson claimed his source assured him that the official reveal would be soon, but didn't provide a specific date or timeframe. Henderson's source also claimed that the controller would have some software updates, although it's unclear what that might mean for overall performance.
Fans aren't sure how to respond to the rumors of a pro controller, but some are still offering up their requests for new features. One gamer begged for swappable battery packs, which would solve the most disappointing aspect of the DualSense. Others requested customizable D-pads and clickier buttons for fighting game pros.
Some gamers compared the PS5 Pro controller news to the Elite Xbox controller, noting that Xbox has had a separate line of more customizable controllers for years, noting that it was time for Sony to offer a similar product. In fact, the Xbox Elite controller even got an unexpected upgrade in 2021, ushering in the era of the second series of Elite hardware.
It's unclear when – or even if – the new PS5 Pro DualSense will be announced, and gamers can't be sure that Henderson's source has all the details right, but the prospect is exciting nonetheless.