Why Some Fans Think Call Of Duty Is Ripping Off Dr Disrespect's Deadrop
Dr. Disrespect's games studio, Midnight Society, has found itself at the center of another controversy. But this time, many gamers are flocking to defend the studio rather than attack it. For the uninitiated, Midnight Society is a newly formed studio led by Dr Disrespect that consists of a small team of industry veterans. And the studio's first major project is a first-person vertical extraction game in the style of "Escape from Tarkov," titled "Deadrop."  
Advertisement
Although it's still early in development, "Deadrop" has already seen its fair share of controversies. The biggest came from the addition of NFT skins to the game's Founder's Pack. And with NFTs being such a controversial topic in the gaming landscape, not everyone was keen on its inclusion. Additionally, as soon as footage of the game hit the internet, many were quick to throw shade at what they were seeing. Even so, people are intrigued by the concept of a vertical extraction game, especially with Dr Disrespect talking it up so much via his own streams.
And now, gamers are rallying around "Deadrop" to offer their support after industry giant Activision recently showcased some new content for "Warzone" that many believe to be a blatant rip-off of "Deadrop" — and even Midnight Society's studio head had something to say about the alleged theft.
Advertisement
Did Call of Duty rip off Deadrop with its new skin?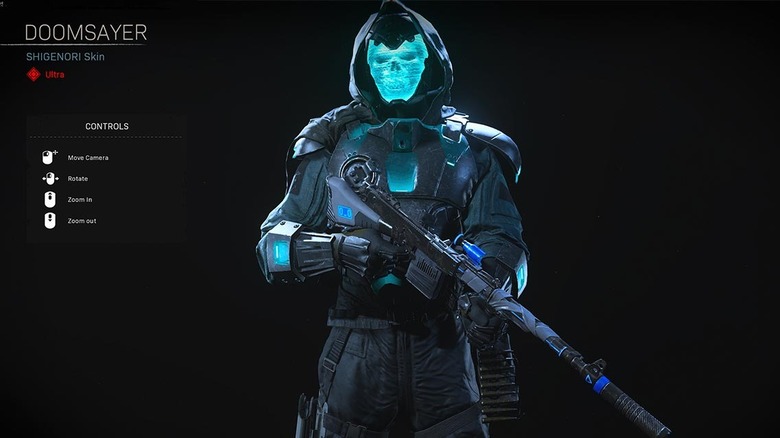 Activision
On August 15, "Call of Duty" tweeted out details about a new bundle of skins being added to both "Call of Duty Vanguard" and "Warzone." Upon closer inspection, many found the skin to be strikingly similar to Midnight Society studio head Robert Bowling's "Deadrop" skin, right down to the character's hood, armor, and glowy skull face that would make Skeletor proud.
Advertisement
Dr Disrespect and his team are no strangers to the "Call of Duty" franchise, as a few of them have worked on the long-running series in one capacity or another. Before he became a famous streamer, Dr Disrespect himself – in his civilian identity of Guy Beahm, of course – worked as a community manager for Sledgehammer Games before become a level and map designer. The Doc was particularly involved in the level design elements of "Call of Duty: Advanced Warfare" before he left to stream full-time. Meanwhile, it's pretty difficult for fans to ignore the simple fact that Robert Bowling himself used to work for Infinity Ward as a community manager and strategist before joining up with Dr Disrespect's crew.
Advertisement
Shortly after "Call of Duty" showed off the new skin, Midnight Society supporters were quick to back up "Deadrop" on social media. Some immediately created memes poking fun at the issue, while others took a more serious approach and questioned how the "Call of Duty" skin wasn't breaking copyright laws. In the midst of the controversy, Bowling wrote on Twitter, "at least name it after me," but he was met with a mixed response. Some defended him, while others linked examples of skull-faced armor sets from the past that look similar to the "Call of Duty" skin, implying that other designs also influenced the "Deadrop" skin. 
Has Call of Duty made the same mistake again?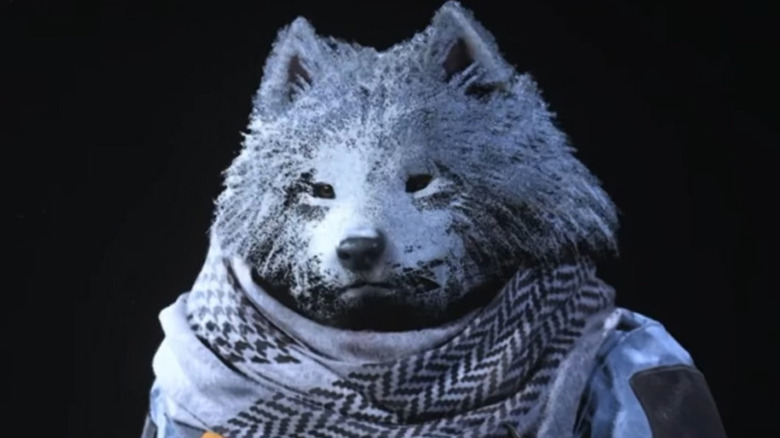 Activision
Of course, this isn't the first time that Activision — and specifically the "Call of Duty" franchise — has faced plagiarism accusations in recent history. Most recently, "Call of Duty" came under fire for a particularly cuddly character clone called the Loyal Samoyed, which appeared to directly copy the work of a concept artist by the name of Sail Lin. The ensuing controversy eventually led to Activision making the decision to pull the Operator skin all together, After canceling the Loyal Samoyed skin, Activision went the extra step and issued a public apology for the design and ensuing controversy: "We have the utmost respect for creativity and content creation," said Activision. "We love the Loyal Samoyed, but regrettably we erred in our process and have removed this imagery from the game. We apologize for the misstep."
Advertisement
Prior to this, Activision also found itself in hot water for allegedly using a character created by author and photographer Clayton Haugen without permission. This particular incident ultimately led to Haugen serving Activision with a legal complaint. The latest controversy surrounding "Deadrop" feels all to familiar to fans who watched these previous incidents play out.
Dr Disrespect has not yet weighed in on the debate surrounding the new "Call of Duty" skin or its resemblance to Bowling's design, but the Two Time Champion is not known for biting his tongue. Fans may want to keep their eyes peeled for a response from Midnight Society.