FaZe Cented Responds To Firing
Esports org FaZe Clan has certainly experienced a lot of ups and downs over the last few years. Back in 2020, FaZe Clan member Jarvis was banned from "Fortnite" after using an aimbot in the game and admitting to it while streaming. Later that year, things seemed to be getting better for the group as it announced intentions to teaming up with production company Sugar23 to "develop films and scripted television." Then in 2021, things got bad again as fans began blasting FaZe Clan for the involvement of several members in promoting what looked like a cryptocurrency scam. While member Frazier "Kay" Khattri tried to make things right with a video apology and a promise to reimburse fans who lost money in the incident, it still created plenty of bad press for the group. Since then, FaZe Clan has teamed up with Batman (seriously), had a member go MIA, and added rap legend Snoop Dogg to its ranks. Now the group faces yet another controversy with the firing of Cented, another popular "Fortnite" player.
On July 3, FaZe Clan announced on Twitter that Cented was "permanently removed from FaZe." The decision was made after a clip from a 2021 stream emerged in which Cented used a racial slur. 
"FaZe is constantly evolving and we expect our members to do the same," the announcement began. It concluded with the statement that "we, and the gaming community at large can't tolerate discriminatory language any longer." Since then, Cented has responded to FaZe Clan's decision to fire him.
Cented Apologizes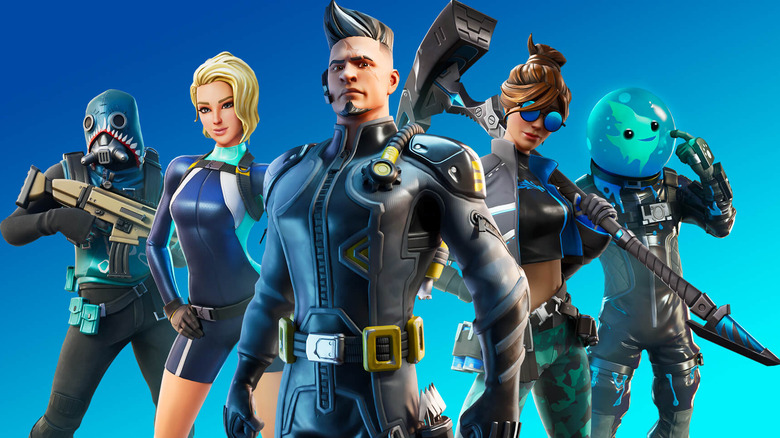 Epic Games
In a tweet sent later the same day, Cented apologized for his past behavior and confirmed that he and FaZe had parted ways. While he framed his departure from the group as something that both parties had agreed to, he did acknowledge that he had used poor judgment and did not try to sugarcoat what he'd said. Cented quickly followed up this tweet with a longer response in which he expanded on his apology and reflected on his current situation.
"In your career, you never think you'll be making one of these," Cented began. He went on to apologize to "Fortnite" players and to those offended by his words. His statement emphasized that he was not motivated by racism. "I said something for shock factor... something that should never be said, and I am deeply sorry." 
There's no indication where FaZe Clan or Cented will go from here. Since the news broke, Cented has been quiet online, not tweeting since his apology. Meanwhile, FaZe appears to be trying to move on, tweeting regular announcements and celebrating the Fourth of July.