You Won't Want To Miss This Jimmy Fallon And Corpse Husband Stream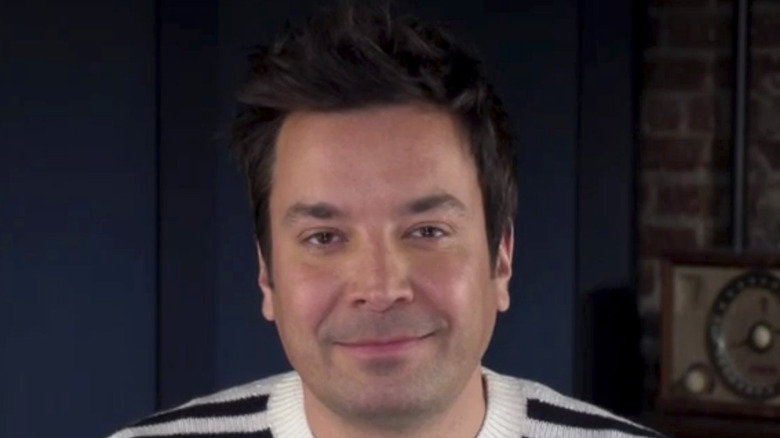 Sagawards2021/Getty Images
Twitch has been a highly popular streaming platform for years, and as its presence grows, it continues to garner the attention of public figures outside of the core gaming world. In 2020, Rep. Alexandria Ocasio-Cortez set a new record during her first-ever stream, and now it looks like a popular late-night host is about to jump into this newer form of entertainment. Luckily, he won't be going at it alone.
IGN reports that Jimmy Fallon will be trying out the new Among Us airship map with Stranger Things stars Gaten Matarazzo and Noah Schnapp, along with members of The Tonight Show house band The Roots. But who better to show this crew the ropes than seasoned Among Us streamers? That's why Sykkuno, Valkyrae, and the legendary deep-voiced Corpse Husband will be joining as well.
Viewers can catch this exciting match live on Twitch, but for those who prefer more traditional media, some of the stream will be included in the following broadcast of The Tonight Show.
The stream will be a momentous crossover, considering a Twitch gaming session will be aired on a syndicated program. For someone like Corpse Husband, whose career has been on the rise, this collaboration could lead to even bigger things. That's not to say he hasn't already experienced some astonishing mainstream success.
When Corpse released the song "E-Girls Are Ruining My Life," it was a huge hit. From there, he was able to tap into mainstream awareness by getting a billboard in Times Square. His music career only grew more promising after teaming up with famous rapper Machine Gun Kelly, and now his voice will be heard by The Tonight Show's millions of fans. What will be next for the rising star?
Corpse has admitted in the past that a face reveal might open some doors, but it seems as though he doesn't need to show his face to continue climbing the ladder. Would Corpse be open to collaborating with more late-night television programs, or perhaps even making a guest appearance on one? He did manage to swing a full interview with Anthony Padilla while remaining completely anonymous. Of course, that was on YouTube, and repeating the same trick in front of a live audience might not be as easy.
If you want to watch the whole Among Us segment live, you can catch Jimmy Fallon's debut stream on his Twitch channel tonight starting at 6:45 PM EDT.